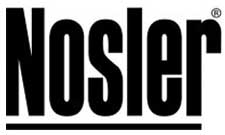 Bend, Ore –-(Ammoland.com)- Due to popular demand, Nosler will be introducing three new offerings to their current Match Grade and E-Tip Ammunition product lines.
To further supplement the incredible popularity of the recently announced 22 Nosler cartridge, owners will now be able to purchase Nosler Match Grade ammunition loaded with the new 70 grain RDF (Reduced Drag Factor) bullet as well as the 55 grain E-Tip bullet loaded in Nosler E-Tip Ammunition.
The 70 grain RDF bullet is ideal for target and match shooting with the highest ballistic coefficient compared to any bullet in its weight class. The 55 grain E-Tip bullet will turn the 22 Nosler into a perfect medium to small game hunting cartridge with exceptional terminal performance and weight retention.
Nosler will also be adding the 6.5 Creedmoor loaded with 140 grain RDF bullets to their Match Grade Ammunition line. With the increased ballistic coefficient and reduced hollow-point size, the 140 grain RDF will squeeze even more long range performance out of the 6.5 Creedmoor.
Manufacturer's Suggested Retail Pricing for the mid-year introductions are as follows:
Match Grade Ammunition 22 Nosler 70 grain RDF #60124 – $27.95/20 ct. box
Match Grade Ammunition 6.5 Creedmoor 140 grain RDF #60115 – $38.95/20 ct. box
E-Tip Ammunition 22 Nosler 55 grain E-Tip #40140 – $31.95/20 ct. box
All three of these introductions are available now so please visit your local Nosler dealer or www.nosler.com for more product information.
About Nosler
Founded in 1948, Nosler, Incorporated is a family owned company located in Bend, Ore.  Nosler is most known for revolutionizing the hunting bullet industry with bullets such as the Partition, Ballistic Tip, AccuBond, E-Tip and most recently the AccuBond LR along with their newly introduced family of 22, 26, 28, 30 and 33 Nosler rifle cartridges. With the company motto of "Quality First," Nosler manufactures premium component bullets, reloading brass, ammunition and semi-custom rifles for domestic and international customers making Nosler a comprehensive shooting products company. Nosler products are used worldwide by discriminating hunters, shooters, military and law enforcement professionals and sportsmen.