A really cool thing about the American Built Arms ModX M500 Tactical Shotgun System is that it can adjusted into 28 different positions.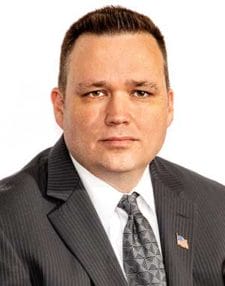 U.S.A. –-(Ammoland.com)- I have been looking around for something to do with the Mossberg 500 that I haven't touched that I happen to have sitting in my gun room.
Not sure what to do with it and not really wanting to get rid of it (can never have too many shottys), so I decided to use it as a test weapon to test out different aftermarket shotgun components. This gives me the ability to tell my wife I need this extra shotgun for work. The single guys might laugh, but the married AmmoLand readers know what I am talking about.
One of the best upgrades a gun guy can do for their shotgun is adding an aftermarket stock. This can make the shotgun more manageable and easier to control if the aftermarket stock is high quality. There are some aftermarket stocks I have tried that just ended up in the garbage because they were no better or even worse than the stock that came with my shotguns.
Around the same time American Built Arms contacted me to see if I would be willing to try out some of their gear. Since I was already in the market for an upgraded stock for my Mossberg 500 I decided to take them up on the offer and try out their new Mod*X M500 Tactical Shotgun System. I let them know I was willing to try it out and it was sent to my door.
American Built Arms ModX M500 Tactical Shotgun System
The A*B Arms Mod*X M500 Tactical Shotgun System is a simple system to install that just bolts onto your existing shotgun. There is no need to modify the shotgun receiver, or take it to a gunsmith to have it installed. It is a simple process that only took me a few minutes to remove my old furniture and install the new gear.
It is mounted with an aluminum adaptor that is made out of 6061 T6 aluminum. The aluminum Mod*X M500 is anodized with a class 3 anodization process similar to the anodization of an AR15s and other firearms. The aluminum held up to the stress of shooting the shotgun. I will continue to abuse the system to see how far I can push it. So far though it has held up remarkably well.
The system is similar to an AR15 with an enhanced buffer tube. In fact when I first saw it that is what I thought it was.
I like the fact that A*B Arms leveraged existing technologies in the Mod*X M500 Tactical Shotgun System. A*B Arms seems to agree with me that there is no need to reinvent the wheel. A lot of companies will try to and end up with an inferior product.
The Mod*X comes with the A*B Arms Urban Sniper Stock which is an incredible stock.The stock is totally adjustable. The thing I like about this stock is that it is the same stock that A*B Arms offers for AR15s. This means when you switch from an AR to a shotgun in a three gun competition the feel doesn't change. A*B Arms makes great items for ARs and I hope to purchase some for future reviews.
The Mod*X M500 also comes with an A*B Arms pistol grip. The cool thing about the grip is the size. When it seems like most grips keep getting thicker A*B Arms went the other way. To me it seems like they made their grips slightly smaller.
This actually makes the grip more ergonomic and easier to control. This is a big plus for me because my wife is on the petite size, and I want her to be able to use the shotgun.
Plus the A*B Arms grip just works for me. Some people might think it is on the small side when they first look at it, but I would encourage them to give it a try. A friend of mine commented that it looked like the grip was made for me. He then gave it a try and became a true believer of the theory as well.
If you don't like the grip the A*B Arms Mod*X M500 will also accept any standard AR15 grip. This means if you wanted to change the grip you could. I would be easy to add a grip by Hogue or Magpul on the Shotgun. I would strongly encourage the user to at least try out the A*B Arms grip first because I believe most people will stick with it over other brands.
The stock and grip is made out of high strength polymer. This is in line with most aftermarket parts. This also allows A*B Arms to cut the weight of the Mod*X M500. In my experience this lightened up the overall weight of my Mossberg 500.
The butt pad is spring loaded to help with the recoil. I was really quite amazed with how much this helped with the recoil of the Mossberg 500. I broke my shoulder a few months ago and this was my first time firing a shotgun since my injury. I was kind of hesitant at first.
To my delight I was able to handle the recoil firing slugs with no issue. I put about 25 slugs through the shotgun on the first outing just to see if my shoulder would hold up. On the second and third outing I put 50 slugs through the shotgun on each trip. I think without the A*B Arms Mod*X M500 my shoulder would not have held up to the recoil of firing 12 gauge slugs.
A really cool thing about the system is that it can adjusted into 28 different position. It is this level of customization that sets A*B Arms apart from most other companies that make aftermarket parts for the Mossberg 500. This enabled me to be able to customize the shotgun to my exact needs. This is what was missing from some of the cheaper aftermarket parts made for the Mossberg 500.
After testing the American Built Arms Mod*X M500 Shotgun System for a couple of weeks I decided to go ahead and buy one for my personal use. This has been the best aftermarket kit I have ever tried out for the Mossberg 500 or any other shotgun.
After this experience with the Mod*X M500 and my experience with shooting a Remington 700 with the Mod*X Gen III Modular System I can't wait to test out more gear from American Built Arms. If the rest of their gear is as good as both their Mod*X systems are then I will be very happy.
American Built Arms can be found at www.abarms.com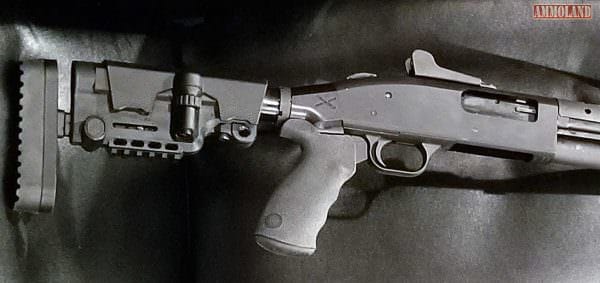 About John Crump
John is a NRA instructor and a constitutional activist. He is the former CEO of Veritas Firearms, LLC and is the co-host of The Patriot News Podcast which can be found at www.blogtalkradio.com/patriotnews. John has written extensively on the patriot movement including 3%'ers, Oath Keepers, and Militias. In addition to the Patriot movement, John has written about firearms, interviewed people of all walks of life, and on the Constitution. John lives in Northern Virginia with his wife and sons and is currently working on a book on the history of the patriot movement and can be followed on Twitter at @crumpyss or at www.crumpy.com.