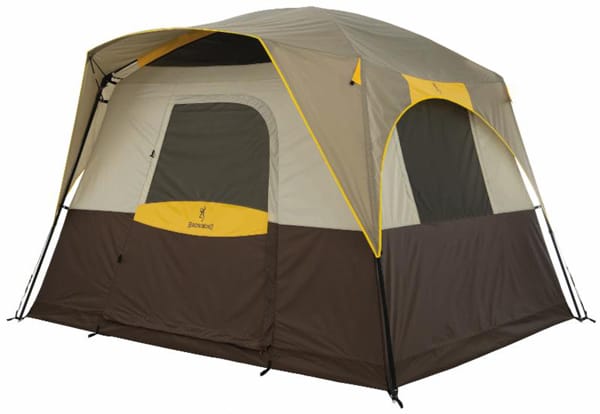 USA -(Ammoland.com)- Browning Camping is excited to introduce the Ridge Creek tent to its ever-expanding line of camping gear.
The 8-foot by 10-foot Ridge Creek tent features easy setup with fiberglass poles and steel uprights for extra strength. At 7 feet, the extra-tall center allows more room for campers or hunters to stand upright.
The large doors allow for easy access and the straight sides create more room for cots. Large awnings and windows, coupled with factory-sealed seams create excellent ventilation and weather protection. The Ridge Creek, with a total area of 80 square feet sleeps five people.
Browning Camping takes the Browning motto of "The Best There Is" to heart, producing outdoor and camping gear of only the highest quality. This ensures that every item we manufacture is worthy of the world-famous and highly trusted Buckmark.
Using only the highest quality fabrics, components and construction techniques, Browning Camping gear stands above the crowd in terms of quality outdoor products. You'll be hard-pressed to find a better air pad, tent, sleeping bag or camp chair on the market today. Backed by an industry-leading lifetime guarantee, Browning Camping gear truly is "The Best There Is."
For more about the expanding line, go to their website.
ALPS Brands is a proud licensee and distributor of Browning Camping.
About ALPS OutdoorZ, an ALPS Brands Company:
Beginning in 1993 with the establishment of ALPS Mountaineering, ALPS Brands is a continuously growing and expanding group of companies dedicated to developing and manufacturing high quality, performance-driven outdoor products. Currently making up the ALPS Brands family of companies are ALPS Mountaineering, ALPS OutdoorZ, Delta Waterfowl Gear, Browning Camping and Cedar Ridge. Using the experience and knowledge gained from manufacturing high quality camping and backpacking gear under ALPS Mountaineering, ALPS Brands established ALPS OutdoorZ in 2007 with the mission of developing affordable, performance-driven hunting gear. Ten years after releasing their first group of hunting products, ALPS OutdoorZ has grown to offer packs, furniture, gun cases, sleeping bags and ground blinds. Brought together by a shared passion for wildlife and conservation, ALPS OutdoorZ is a proud sponsor and licensee of Delta Waterfowl, RMEF and NWTF products. ALPS OutdoorZ items are sold and distributed in the best camping, backpacking and outdoor dealers throughout the entire US and Canada.
For more information, visit their website.