John Crump gets time in trying out American Built Arms AR-15 rifle furniture on his new Ruger AR 556 carbine.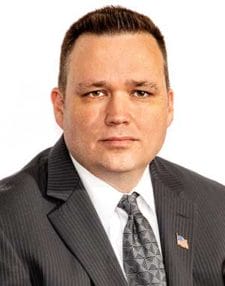 U.S.A. –-(Ammoland.com)- Awhile ago I reviewed the A*B Arms MOD*X M500 that I installed on my Mossberg 500 and I loved it so much I bought it. American Built Arms seems to be one of those companies that put a lot of time and effort into their designs to balance functionality with style.
I got a new Ruger AR 556 MSR to play with and wanted to dress it up a little bit. The way it comes stock makes it look a little bland. I wanted to go with a FDE color scheme instead of the standard black, and I wanted to upgrade some of the Ruger standard parts that it came with installed.
I wasn't just going for looks; I also wanted functionality. I have seen plenty of things in the past that looked cool but just didn't work well.
While looking around for AR furniture I decided to look into what American Built Arms had to offer for the AR platform. They are one of my favorite companies and they make top notch gear, but there is a bigger reason why I was going to spend my money with A*B Arms.
The main reason why I like American Built Arms is that they are disruptors in the firearms market. I don't mean that in a bad way. Instead of following trends or doing things the same way as everyone else they seem to take the road less traveled. AirBNB and Uber would be a couple of other examples of companies that I consider disruptors. Glock in the 1980s would also fall into this category. To me, a disruptor takes on something in a totally different way than everyone else. This pushes the market forward by leaps instead of a slow crawl.
The first thing I switched out on the AR556 was the pistol grip. I have never been a fan of the standard pistol grip used on the AR platform and have used every aftermarket pistol grip out there for my ARs. Out of all the pistol grips I have used on my AR-15 rifles, the American Built Arms pistol grip has the most unique feel to it.
Everyone making aftermarket parts seems to keep making the pistol grip thicker. A lot of people like a thicker grip, but there is also a huge market of people who don't. I fall into this group, and A*B Arms seems to want to capture the latter market by making their pistol grip smaller. This goes directly along with the disruptor theme of everything else that they do.
The exact model I went with was the A*B Arms SBR P*Grip, and I have to say I love it! This by far is the most comfortable pistol grip I have ever used. It gives me a superior grip on the rifle and my hand molds right to it. This will be my go to grip from now on. The looks and the feel are a perfect match for my taste.
The second piece I replaced was the handguard. I went with the A*B Arms A*B Pro Hand Guard. Since I am not going to use a foregrip on this AR I wanted to make sure that it was comfortable and it was able to insulate my hand from the heat.
Heat seems to be a problem with some of the cheaper handguards.
The looks of the handguard is unique. I heard a rumor that the person that designed the handguard for A*B Arms also designs tools for a major company. It seems like they once again went with a different approach by bringing someone from outside of the gun world into design the handguard. Whether that is true or not the handguard fit my hand perfectly and gave me a great stable grip on the rifle.
The major concern with a handguard though is heat. I have to say this handguard really dissipated the heat with little issue. I was able to put around 500 rounds of my favorite Gorilla Ammunition through the rifle without the handguard getting too hot to hold. A*B Arms did a great job with their heat shields.
The final thing to go off the stock AR556 was the butt stock. I decided to go with the  A*B Arms Urban Assault Stock. Two of the biggest issues with collapsible buttstock is that a lot feel loose, and some seem to rattle. American Built Arms have solved this issue by instead having the whole buttstock move only the spring load butt pad moves.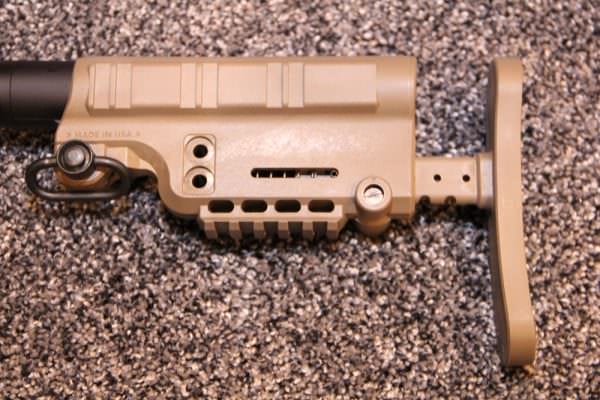 A*B Arms calls this a fixed-adjustable design. To be honest, at first I didn't know if I liked it. After about 100 rounds at the range, I was sold. It held solid and felt comfortable. There was no movement and no sound at all. This is just another creative way that American Built Arms has solved a problem without doing what everyone does.
A*B Arms also included a rail on the Urban Assault Stock. This can be used to mount a monopod. I can see where this could be helpful when shooting at distance, but I am probably not going to be using this feature. It is good to mention though because so few AR stocks have that option
Overall everything looked and functioned spectacularly for me. As I always do I let a few other people play with it. Two of my friends were not sure about the slim pistol grip and buttstock at first, and it took them shooting the rifle to come around. After they finished they were true believers. I tried to explain the whole disruptor theory to them, but one of my friends said: "John, just say it works."
The American Built Arms Urban Assault Stock, SBR P*Grip, and A*B Pro Hand Guard all work and I would recommend them. If you want a "Plain Jane" AR15 setup this might not be for you, but if you want form and functionality then give them a try.
At the time of this writing the Urban Assault Stock sells for $59.99, the SBR P*Grip sells for $19.99, and the A*B Pro Hand Guard sells for $40.99. These are all also available in black.
American Built Arms can be found at http://www.abarms.com
About John Crump
John is a NRA instructor and a constitutional activist. He is the former CEO of Veritas Firearms, LLC and is the co-host of The Patriot News Podcast which can be found at www.blogtalkradio.com/patriotnews. John has written extensively on the patriot movement including 3%'ers, Oath Keepers, and Militias. In addition to the Patriot movement, John has written about firearms, interviewed people of all walks of life, and on the Constitution. John lives in Northern Virginia with his wife and sons and is currently working on a book on the history of the patriot movement and can be followed on Twitter at @crumpyss or at www.crumpy.com.