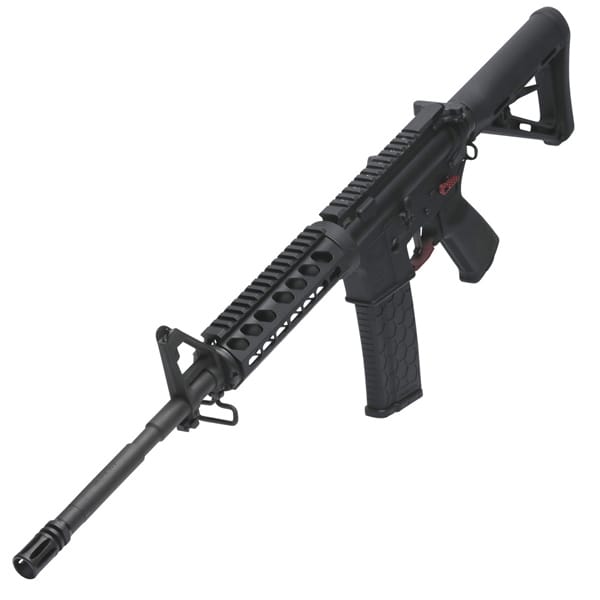 MANSFIELD, Texas -(Ammoland.com)- Victory Justifies Everything—and that includes switching out your outdated A2-style AR-15 handguard for Firefield's new Edge 2-Piece Keymod Rail (FF34053).
Designed for carbine length AR-15 rifles, this aggressive rail works seamlessly with ARs using drop-in/delta ring style rails handguards.
Ideal for hunters, tactical shooters and combat simulators, the 7" Edge Rail features keymod sections so shooters can customize their firearm and add shooting accessories exactly where they need them. Picatinny, NATO and Weaver mount compatible, these striking rails will allow almost any rifle accessory to be attached with ease.
Featuring hard anodized aluminum construction, the Firefield Edge Series Keymod Rail 2 inch Rail Piece is designed to hold up to virtually any tactical attachment thrown its way.
Specifications
Length – 2.325
Material – Aluminum
Rail type – Picatinny/weaver
Weight, oz – 1
The Edge's durable, hard anodized aluminum construction protects your barrel from hard use and the elements, while weighing in at a mere 5.9 oz. to keep your rifle as lightweight and maneuverable as possible.
So what are you waiting for? Customize, increase the functionality and improve the look of your rifle with the Edge Carbine Length 2-Piece Keymod Rail. Included with Edge rails is a 5 slot keymod rail piece and hex key.
Visit Twitter to learn more about Firefield products.
The product is available for only $7.19.
ECCN: 
The ECCN, USML Category, or European Dual Use/Military designation, provided by Sellmark, is advisory. All advisory information reflects an interpretation of the U.S./European export laws and regulations and is subject to change without notice.
It is the obligation of the exporter requesting the advisory information from Sellmark to comply with all applicable export control laws and regulations. Sellmark makes no representation as to the accuracy or reliability of the export control classification information and is in no way responsible for any damages or penalties suffered by any other party as a result of using or relying upon such information.
Please refer to the Export Compliance page for more information.
About Firefield:
Firefield offers force multipliers and accessories for mission-critical operations and extreme shooting sports involving rifles, shotguns and pistols. Designed for next generation shooters, boot-on-the-ground operators and serious gun enthusiasts, Firefield provides products for hard-charging, action-oriented situations. Firefield—Victory Justifies Everything!
For more information about Firefield products, visit their website.