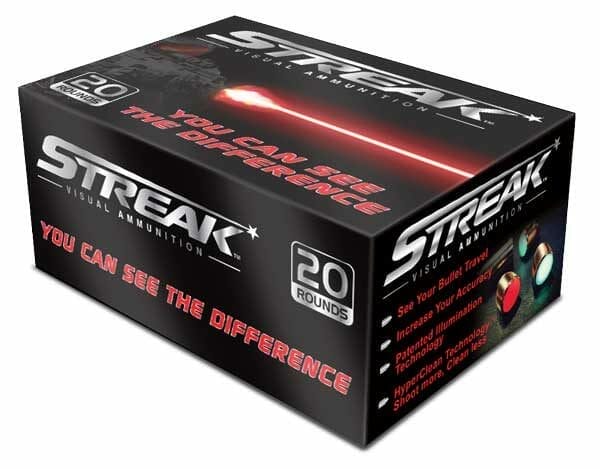 SCOTTSDALE, Ariz. -(Ammoland.com)- AMMO, Inc. (OTC:POWW), a technology leader and premier American ammunitions developer and manufacturer, most recently released the new STREAK line of visual ammunition.
STREAK's combination of HyperClean Technology and an illuminated, non-incendiary projectile have proven a winner with consumers and indoor ranges around the country.
STREAK's patented formulation incorporates a non-flammable phosphor material that utilizes the light emitted during discharging of the round to make STREAK glow. STREAK is not on fire and does not generate heat therefor making STREAK is safe for indoor range use where the illumination is best seen.
Early reports from the field mention STREAK visual ammunition is also a great way to wrap up a day of outdoor shooting, waiting until the waning moments of daylight too, "go STREAKING".
"We were fortunate enough to get an early test run with AMMO, Inc.'s STREAK ammo. Our clients loved it so much that we have decided to do a weekly STREAK Shooting night at our ranges. STREAK ads a whole new dynamic to target shooting," said Bren Brown, President of Frontier Justice, The Midwest's Premier Firearms Destination.
STREAK ammunition is intended for use in areas free of natural sunlight when the human eye's pupil is most open. Dusk-till-dawn and indoor lighting permit the pupil to open enough to see STREAK ammunition.
Contrast is what permits you to see a glowing object moving at the speed of a bullet. The darker the backdrop and target the better you'll see STREAK.
Streak ball ammunition is currently available in 9mm, .40 S&W, and .45 ACP.  The STREAK line will expand to include hollow points in the same calibers and will be available in January 2018.
AMMO, Inc. will be releasing Streak Visual Ammunition in both red and yellow/green illumination colors and in multiple pistol and rifle calibers.