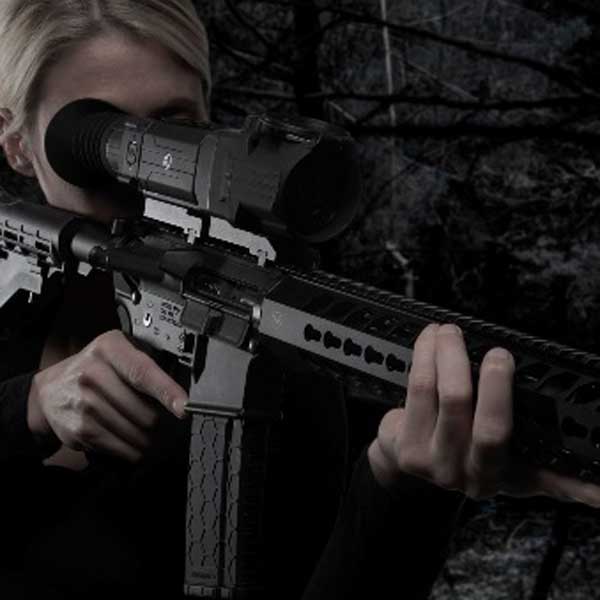 MANSFIELD, Texas -(Ammoland.com)- Continuing an unwavering commitment to quality night vision technology, Pulsar introduces the latest innovative scope in the Digisight series; the Digisight Ultra N355 (PL76370Q).
Ideal for night or daytime predator, hog and varmint hunting, this digital night vision riflescope is a major improvement over previous Digisight models, which already revolutionized the night vision industry when they were introduced, and adds many welcomed features that are becoming standard for Pulsar optics.
The N355 combines a high-resolution 752×582 CCD sensor and 640×480 AMOLED display to produce a nighttime detection range of 545 yards.
Perfect for shooting at all hours of the day, the Digisight Ultra N355 boasts Pulsar's popular proprietary Picture-in-Picture digital zoom function, allowing a zoomed wide field-of-view image at the same time.
In addition, the Digisight Ultra N355 offers continuous and 2x/4x stepped digital zoom, 3 rifle profiles with 15 total zero saves, 13 variable electronic reticles, one-shot zeroing with freeze function, modular IR illuminator, stadiametric rangefinder, color modes and more.
Waterproof and recoil rated up to .375 H&H, the Digisight Ultra is built to handle just about any situation you throw at it. The Ultra N355 can be used both day and night; once it's on your rifle, you'll have no reason to take it off!
Included with the Digisight Ultra N355 are a battery pack, charging kit, USB cable, IR illuminator, wireless remote control, QD weaver/picatinny mount, cleaning cloth, carrying case and all necessary mounting tools.
Have you ever wanted to brag about last night's hunt to your friends? It's now possible with the Ultra's built-in video recorder working seamlessly with Pulsar's Stream Vision App to allow remote viewing and streaming to YouTube without any cables or DVRs.
Visit Facebook, Twitter, Instagram and YouTube to learn more about Pulsar products.

About Pulsar:
Every Pulsar device is designed, manufactured and tested to ensure demanding professionals receive the most reliable, most advanced thermal and digital night vision performance the industry has to offer. The result of Pulsar's commitment to industry-leading excellence is consistent world-class quality, precision engineering, seamless device operation and cutting-edge proprietary software. Pulsar produces an array of advanced optical devices designed for law enforcement, security, home defense and hunting applications, including thermal imaging and digital night vision monoculars and riflescopes, night vision binoculars and goggles, rangefinders, IR flashlights and related accessories.
To learn more about Pulsar, visit their website.