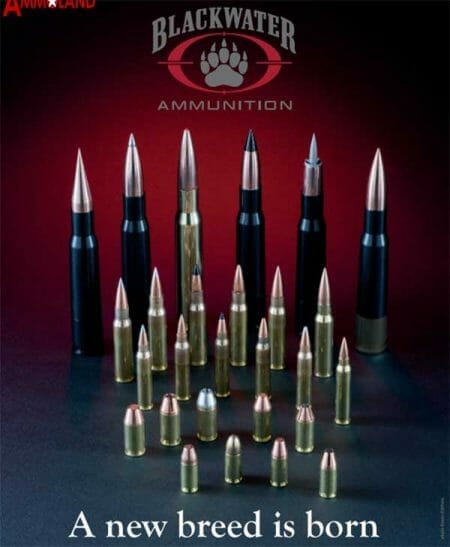 Malta –-(Ammoland.com)- World famous Blackwater founder and owner Erik Prince and gun and ammunition designer Nicola Bandini selected the opening of international firearms, ammunition and hunting exhibition IWA 2018 in Nuernberg, Germany, to announce the birth of a totally new industrial venture, Blackwater Ammunition.
The new commercial Brand, in short named BWA as it appears on the headstamping of the new lines of manufactured centerfire, metallic cartridges, comes as the global offshoot of the parent Company, PBM Limited, the acronym of Precision Ballistic Manufacturing, set in the territory of Malta (EU) a small group of islands not far from the coasts of Italy and Lybia.
"PBM and Blackwater Ammunition are launched as a new, solid and well experienced industrial venture and not as a cosmetic operation" says Nicola Bandini, founder member and CEO of the company.

"In other words" continues Bandini "we did not intend to apply a well known and legendary brand to someone else's products: this would have been the short way, but short lived fame as well, especially as we wanted to be our own masters in developing and timing a revolutionary approach in ammunition manufacturing".

"So we did it the hard way, waiting the necessary time to set up the top quality machinery, in a world perspective when centerfire metallic cartridges global demand pressures manchines manufacturers to push the industry further and further away with delivery" concludes Bandini.
But the effort was worth the wait: Blackwater Ammunition sets off to the world markets with a staunch approach, while bringing revolutionary ideas to a market, which is stagnant in terms of real industrial change since over 100 years.
At IWA 2018, Blackwater Ammunition introduces a whole line of centerfire metallic calibers both for pistols and rifles, ranging from 9 Luger, to .45 ACP, to .223 REM/5,56×45, .308 WIN/7,62×51 and the mighty 12,7×99/.50BMG.
More world famous calibers will be launched in 2019, as well as a couple of other proprietary calibers for the Military and Law Enforcement uses.
The new centerfire lines will be both available for the commercial, shooter's and general civilian markets, offered in distinctive black boxes (Standard and Signature Series) as well as to the professional Military, Law Enforcement and Government Agencies worldwide, offered in rugged, all weather desert tan boxes (Professional Line).
Furthermore, in the spirit of the leading wish to innovate, Blackwater Ammunition sets to the world market with a considerable line of proprietary bullets profiles and design, in the field of the green revolution (lead-free) while approaching the large scale manufacturing from a totally new industrial perspective.
The lines of over 20 new bullet designs, ranging in all calibers including the .50 BMG, are the result of almost two years of study, R&D and hundreds of shooting sessions, both using ballistic laboratory and proof barrels, as well as market standards in rifles and pistols technology.
Some of the new Blackwater Ammunition bullet design are actual Patent Pending, for which separate Press Releases will be circulated soon.
For more Information:
www.youtube.com/blackwaterammo
www.blackwaterammo.com