U.S.A. –-(Ammoland.com)- High Speed Gear, to put it simply, makes A LOT of tactical gear. They make everything from mag pouches handcuff holders, and tourniquet attachments to belts and plate carriers to hold onto all that gear. Best of all none of this gear is going to break the bank, and even better, it all works as good as it looks.
My first acquaintance with HSGI came through a discussion with a friend that was looking for gear that would function not only in a tactical shooting course but also in competition shooting. From everything I have seen from HSGI belt and attachments, there is really not much that it can not do. The one thing that this belt does exceptionally well: carry a lot of ammo.
HSGI Polymer Double Decker TACO
HSGI's best attachment by far has to be the TACO mag pouches. These pouches can easily carry 3 rifle mags and 3 pistol mags while leaving almost ⅔ of your belt's space still available. That means 120 rounds of .223 and 60 rounds of 9mm all accessible at the 6 o'clock position on my left hip. If you consider what that means, I have my whole back open to attach first aid kits, flashlight pouches, and any other gear you might want on you at the range, but maybe not in your pockets.
TACO pouches come set up for MOLLE attachments, which loop through the webbing on the belt. They can also be set up to slide directly over a belt if you would rather attach them to a range belt, but I would recommend the MOLLE system myself.
One note about the MOLLE attachments on the pouches, HSGI uses a hard, flexible plastic band to loop through the webbing and snaps together tightly to secure the attachment. In my opinion, these are much more secure than other types of MOLLE attachments that use metal snaps or velcro. The plastic band was very secure and in order to pop it off, I had to use a flat screwdriver.
Expect some adjustment in your training with the TACO pouches, a few times I caught myself going for a rifle mag and accidentally starting to draw a pistol magazine. This was no more than a quick session of shooting with the belt before I was indexing the correct magazine each time.
Last thing, retention, if it were an issue I would have mentioned it earlier. Throughout my time with the TACOs none of my mags were sliding up or bouncing out while running. Drawing from the TACO is smooth, and does not have the sort of snappy response that you get from kydex.  If you want to tighten the retention it is as easy as pulling the drawstrings tighter, but I did not need to use them.
HSGI Laser Sure-Grip Padded Belt
Other belts that run through the belt loops on your pants can start to actually pull your pants down when you add the weight of ammo and other gear. Obviously, it's not good if you are trying to move, shoot, and contend with your pants sagging. HSGI's Sure-Grip padded belts take the road of wrapping around your waist, rather than through your belt loops.
Admittedly, I was worried the belt would end up sliding down with the added weight of full magazines. Surprisingly, the Sure-Grip held up and did not fall down, although it did occasionally slide up when drawing my pistol. What I really liked about this set up was that I did not need to tuck my shirt in, which I hate doing. Its minor thing but it makes my day happier than tucking it in. This also meant I could wear the HSGI belt over a sweatshirt or light jacket without it interfering with my draw.
My favorite part about this belt, hands down, is how comfortable it is. Nothing on it bites or catches when you go to sit with it on and wearing it for multiple hours is hardly noticeable. Equipping and removing the belt is easy with the Cobra belt buckle, and makes tossing the belt on and off a non-issue.
HSGI OWB Holster – GLOCK Standard
Rounding off the belt is the HSGI kydex OWB holster. The first thing you should notice is how tight this holster sits against the belt, and even against your hip when wearing.  The actual belt loops of holster are shaped in a way which contours not only to your hip but your whole torso, which means sitting down or kneeling is not going to jab you in the stomach or leg.  The design of the holster is minimalist, with the ejection port and trigger guard fully covered but without any unnecessary edges. There is a small thumb rest on the inside that assists in breaking the retention while drawing. Similar to the pouches retention was tight enough for me to draw and not worry about running around with my gun.
High Speed Gear Tactical Belts & Gear – Conclusion
Everything that worried about this belt turned out to be a non-issue, the Sure-Grip is indeed gripping enough to hold up belt and ammo during even the most stressful shooting course.
Would I use this HSGI belt in say a 3 gun competition? Probably not my first choice, considering shotgun loading still pretty much determines who wins those competitions. Unfortunately, the HSGI attachments do not support quad-loading or doubles, you would need to wear a chest rig. For me I would rather wear a chest rig anyway for shotgun loading, so if that's your style then consider the HSGI belt.
Would I use this belt in a 2 gun match? Absolutely, and here is why it is more comfortable than other belts and holds more ammo than you will need in any one stage. When you are done shooting you can easily take it right off.
What about a carbine shooting class or handgun training? Definitely an option for any range outing you might have planned. As I said earlier the HSGI belt has plenty of room for 3 mags of rifle and pistol while leaving more than half the belt open for other accessories like a tourniquet or first aid kit.
High Speed Gear has built a belt and gear that will get you through any day at the range.
---
About Duncan Johnson: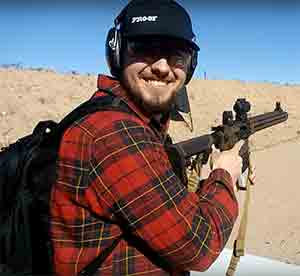 Duncan is a firm believer in the Second Amendment and that "shall not be infringed", means exactly that.  A life-long firearms enthusiast and a graduate of George Mason University, now competing regularly in 3 gun competitions, Duncan is always looking to improve his shooting skills. Duncan is a regular contributor to AmmoLand and assists in the everyday gun-news publishing as an assistant editor.