Tom reviews the Boker Scout Lightweight Knife in cocobola.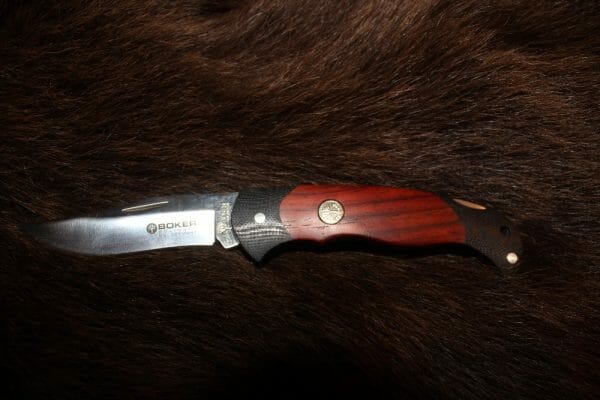 USA – -(Ammoland.com)- A week ago, I was conducting six seminars at The Great Northwest Outdoor Expo, two of which were Knife related seminars. One of them was titled "Choosing the Proper Knife for the Outdoorsman". In a nutshell, I first listed out the Top 5 Designs that I thought an outdoorsman should look for when purchasing a knife.
Next, I showed for each design a few options in various price ranges. After the seminar an attendee said you know, in your seminars I think you ought to recommend a low, medium and then an elite priced knife for each design. A kid on a paper route is not going to be able to afford a $500 hunting knife no matter if it is the best designed and highest quality of knife on the market.
That was good feedback, so I'm going to make a more concentrated effort in my knife seminars to recommend a low, medium and higher priced option for each design of knife that I'm recommending to be used.
I think I already do, but I also want to make sure that when I'm doing Product Reviews for Ammoland Shooting Sports News that over the month I cover lower priced knives on up to higher priced ones so everyone can find a knife to fit their budget. But, I'm not going to spend time reviewing a $4.99 Joe Cheapo Chinese junker that has a life expectancy of five uses. I don't care what your budget is, you have to buy a functional knife.
So with all of this said, today I want to review the Boker Scout Lightweight Cocobola knife, which I'd call an upper-crust pocket knife. Not only is it a well-built knife, but it is also super nice looking. Not everyone may be able to afford it for an everyday carry but if you can, you will catch everyone's attention when you pull it out.
My brother-in-law owns a Boker or two and has always touted what good knives that they are. I have never owned or tested one so I thought I'd better test them out. Two models that caught my eye were the BOKER SCOUT LIGHTWEIGHT COCOBOLO and the multi-bladed OPTIMA. For today we'll review the BOKER SCOUT LIGHTWEIGHT COCOBOLA knife and at a later date the Optima.
To begin, I've always carried a larger pocket knife. It's not a right or wrong, it's just what I carry. I see some guys pull out a dainty little gentleman's pocket knife and well, they just don't appeal to me. I want to carry a real knife so if things go South I can protect my family. Just last week some idiot stabbed eight kids at a birthday party in Boise. What kind of low-breed would do something like that?
A couple of days ago my daughter and I were headed to Oregon fishing and I threw the Boker Scout Lightweight Cocobola in my pocket and thought it'd be a good time to test it out. The first thing that I noticed was how light it was. It only weighs 2.8 oz which is barely over half as much as the weight of a 1/4-pound hamburger patty. They accomplished this by not using their usual nickel silver in the bolsters but used high strength but very light G10 (Glass Fiber Reinforced Plastic) which cuts the weight down by almost 50%. It almost feels like you're holding air.
The next thing that stood out was how comfortable it felt in my hand. It fits me perfectly. I have a medium sized hand so if you have a big burly hand then it probably won't fit you as well. It also has a hole if you'd like to put on a leather thong.
I like to carry a clip point knife and the Boker Scout Lightweight Cocobola has the perfectly designed blade. I love its design and the blade width is exactly right.
Like I stated above, I love the feel of the Boker Scout Lightweight Knife in my hand. The handle slightly bulges out and fills my hand perfectly. The downside of that is that when not in use it may seem a little bulky to carry to those of you that are used to carrying a dainty little pocket knife.
It is not an assisted opener so it will take two hands to open but it is a locking folder. I like the feel of the lock. It feels very secure. I also like that it is made out of D2 metal. I have always had good luck being able to sharpen knives made out of D2 metal.
So my assessment? If you want a nice looking, well-built, medium-sized lock blade to carry, look no further. You'll like the Boker Scout Lightweight Cocobola.
Boker Scout Lightweight Knife Specs:
Total Length: 7.3
Blade length: 3.1 in
Blade thickness: 0.10 in
Weight: 2.8 oz
Blade Material: D2
Handle Material: Cocobolo Wood, G10
Lock: Backlock
Opener: Nail Nick
Color: Brown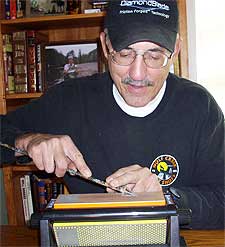 ---
About Tom Claycomb
Tom Claycomb has been an avid hunter/fisherman throughout his life as well as an outdoors writer with outdoor columns in the magazine Hunt Alaska, Bass Pro Shops, Bowhunter.net and freelances for numerous magazines and newspapers. "To properly skin your animal you will need a sharp knife. I have an e-article on Amazon Kindle titled Knife Sharpening for $.99 if you're having trouble"
Disclosure: Some of the links below are affiliate links, meaning at no additional cost to you, Ammoland will earn a commission if you click through and make a purchase.