Josh takes the SIG SAUER P320 X-Carry Pistol to the range in this performance report.
GRAND RAPIDS, MI USA -(Ammoland.com)-  SIG SAUER has had a recent series of wins that are hard to deny. The P320 series pistols have been met with some serious criticism from nearly every angle and are the subject of constant henpecking and ridicule. The thing is, haters are always going to hate and the P320 will continue to do its thing, which is getting those sweet, sweet contracts.
The subject of this article, the P320 X-Carry, has seen a recent spike of interest on the national and international scene. The pistol made the news when it was selected as the Danish Ministry of Defense's new sidearm, handily outperforming all other contenders. Denmark is among the growing number of militaries, local governments, and private security forces to adopt a P320 variant. The United States Army has taken one the P320 as the XM17/18 and the Marines look like they may soon follow. What is it that makes the P320, and the X-Carry I'm reviewing here, so desirable? The answer is easy: the P320 is one gun to rule them all.
The X-Carry is like any other P320 in that it is essentially an internal metal chassis that the slide and grips are attached to. This allows the end user to endlessly modify their pistol, change calibers, slides and barrels, and exchange grip modules, all on one serial number. This is a huge benefit over the competition because the P320 can be readily modified without damaging the frame. A problem with other polymer framed pistols is that the frame contains the serial number and screwing up a stippling job can spell disaster for the gun, where it is a simple cheap purchase for the P320 to replace a grip module.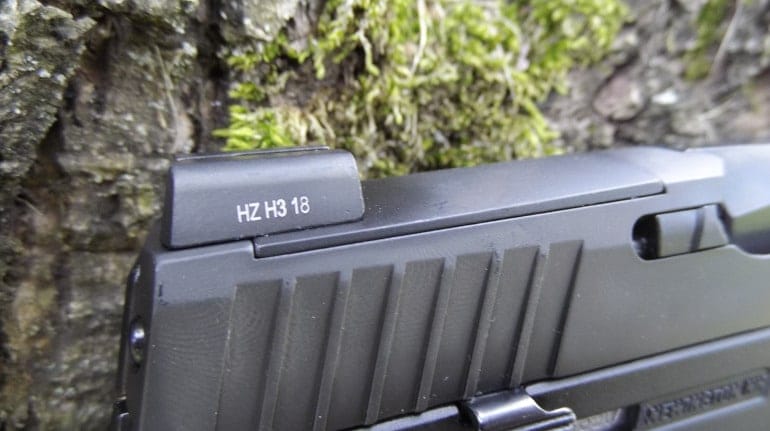 As far as operation, the P320 X-Carry is identical to pretty much any other P320. There is no safety to speak of, which some people find frightening. An individual I was shooting the gun with commented that he would be terrified to carry the gun because of how light the trigger pull was. He likened it to carrying a revolver with the hammer cocked at single-action. The truth is, folks, the P320 X-Carry is no more likely to fire than any other striker pistol is. I hear all the time that this gun needs a blade safety on the trigger or a manual on the frame, but this just isn't so. Any pistol that lacks a manual safety can be discharged by picking it up and pulling the trigger, be it a DAO Ruger LCR or a GLOCK. Respecting the gun and displaying proper trigger control are paramount with any firearm.
Unlike a stock P320, the X-Carry is loaded with excellent features that offer a great deal to a potential owner. The first is the slide. This slide is compatible with other P320 pistols, but it has added features like a cutout above the barrel and a red dot sight adaptor. Hidden on top of the rear of the slide is a plate that contains the rear sight. This plate can removed and a SIG ROMEO red dot can be installed. The red dot capability is awesome and a real benefit, but the pistol comes preloaded with excellent SIG X-Ray sights. These night sights are bright and very functional. All this means that you are able to buy a gun at your local dealer that comes with the best options right out of the box.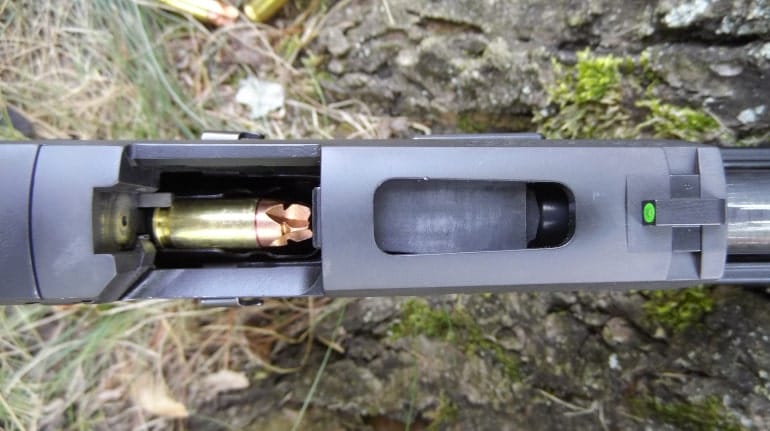 The other half of the gun is also loaded with features. Unlike the rounded and distinctive P320 frames on the other pistols in the line, the X-Carry has a unique X-Series grip contour that is reminiscent of classic lines and is very ergonomic. The best part is that this grip module has features like a semi-aggressive grip texture, a wide mag well, and rail for lights or lasers. This is an extraordinarily comfortable grip that fills the hand nicely while offering a full 17+1 capacity.
The gun has another eye-catching feature that I need to point out. The trigger is flat-faced and breaks clean. In fact, it is so nice that I would liken it to their SRT triggers and not the standard P320 trigger, which I've known to be mushy on the early models. This trigger is not only visually appealing, it is very functional. I love flat-faced triggers and find that they offer much better control, but that is something that I know is an opinion and not a fact for all people.
As far as accuracy and reliability, the P320 X-Carry delivered extraordinary results. I put about 800 rounds through it over the course of a couple weeks and it had no failures to feed or fire. In fact, I had a hard time getting the gun to miss in general. I have had a number of very accurate polymer framed pistols over the last few months, but this takes the cake. My 25 yard accuracy was nothing short of amazing and well on par with other SIG pistols like their Emperor Scorpion Fastback 1911 and M11-A1.
Rounds were fired over an Oehler 35P chronograph on a 90 degree day. Accuracy is the result of two five-shot groups at 25 yards.
Hornady 124gr +P Critical Duty——————————–1175fps, 2.8"
Black Hills 100gr +P Honey Badger—————————1253fps, 1.9"
Black Hills 125gr Honey Badger Subsonic——————-989fps, 3.1"
Lehigh Defense 90gr +P Xtreme Defense——————-1502fps, 1.75"
Buffalo Bore 147gr Outdoorsman—————————-1032fps, 3.3"
SIG SAUER 124gr V CROWN————————————1190fps, 2.5"
Overall this is a great pistol. I can completely understand why it is that SIG has a winner here and why it is getting accepted into international service. I truly believe that the P320 is the wave of the future and it will usher in a new generation of fully modular, extremely accurate pistols that can be adapted to the individual end user. You get lots of bang for your buck with the SIG SAUER P320 X-Carry. It comes ready to rock with three 17-round mags, night sights, red dot adaptability, and a wonderful trigger. Go see one at your nearest SIG SAUER dealer and I think that you will make the same decision as the Danish military did.
The SIG SAUER P320 X-Carry and SIG's ammunition line can be seen at www.sigsauer.com. Ammunition in this article can be purchased at
---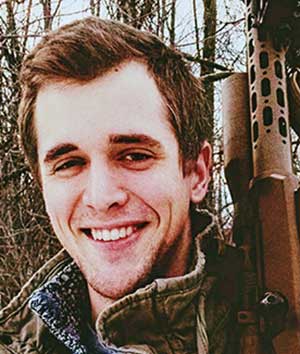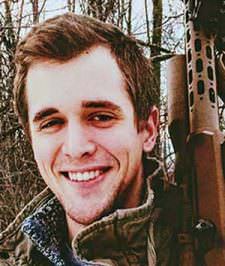 About Josh Wayner:
Josh Wayner has been writing in the gun industry for five years. He is an active competition shooter with 14 medals from Camp Perry. In addition to firearms-related work, Josh enjoys working with animals and researching conservation projects in his home state of Michigan.