Opinion
Fairfax, VA – -(Ammoland.com)- Earlier this month, we revisited the bizarre story of how an aide to anti-gun senator and presidential hopeful Kamala Harris (D-CA) was once arrested for impersonating a police officer, with accusations that included wearing a phony uniform, driving a phony police car, and carrying an all-too-real sidearm.
Meanwhile, another prominent anti-gun Democrat on the East Coast is now facing an embarrassing firearm-related episode of his own, having been forced to fire his deputy criminal justice director as police continue to investigate the woman's possible involvement in an illegal shooting.
New York City is known for its restrictive gun control. It has gained a reputation for punishing unwary travelers who accidentally violate its draconian laws while traveling through the city. In 2017, the Big Apple launched the Office to Prevent Gun Violence, which among other things is tasked with "introduce[ing] technological solutions to prevent gun violence to create safe, empowered and interconnected communities in New York City."
Ironically, one of those "technological solutions" might have led to the arrest of a senior official in the city's administration. According to a New York Post article from April, "Reagan Stevens, a deputy director in the Mayor's Office of Criminal Justice, and two young men were arrested for illegal weapons possession while sitting in a double-parked car near the scene of a Saturday night shooting in Queens …." The article went on to report, "The trio's arrest followed a burst of five gunshots that activated an NYPD 'ShotSpotter' device in Jamaica at 9:42 p.m.," and "private surveillance video captured the muzzle flashes of five shots fired from the Infiniti" in which the suspects were located. Officers recovered a "loaded, 9mm semi-automatic pistol with its serial number defaced" from the car's glovebox, and "there was a spent shell casing on the floor near Stevens' feet in the rear" of the vehicle.
"The handgun seized by cops has an eight-round magazine and held three cartridges — two in the magazine and one in the chamber," sources told the Post. Police also reportedly noticed a strong smell of marijuana as they approached the vehicle.
The Post learned this week that Stevens was finally fired from her $90,000-a-year position with New York City in July.  The paper had earlier described her job duties as "implementing a 2017 state law that will raise the age at which kids can be prosecuted as adults for non-violent crimes from 16 to 18." Stevens herself was 42-years-old at the time of her arrest. Her co-defendants were 24 and 25.
Stevens continues to face two counts of criminal firearms possession. The occupants of the car would not tell police who owned the gun in question.
Kamala Harris might have at least been able to claim that her wayward employee aspired to something worthwhile by imitating a police officer. What Reagan Stevens aspired to by being in that vehicle last April, and by her apparent refusal to cooperate with the police investigation, is not clear.
Most Americans would probably consider this an apt opportunity for officials to give a break to New York City's already beleaguered law-abiding gun owners and refocus reform efforts closer to city hall, but we're not holding our breath.
---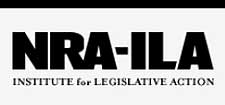 About:
Established in 1975, the Institute for Legislative Action (ILA) is the "lobbying" arm of the National Rifle Association of America. ILA is responsible for preserving the right of all law-abiding individuals in the legislative, political, and legal arenas, to purchase, possess and use firearms for legitimate purposes as guaranteed by the Second Amendment to the U.S. Constitution. Visit: www.nra.org