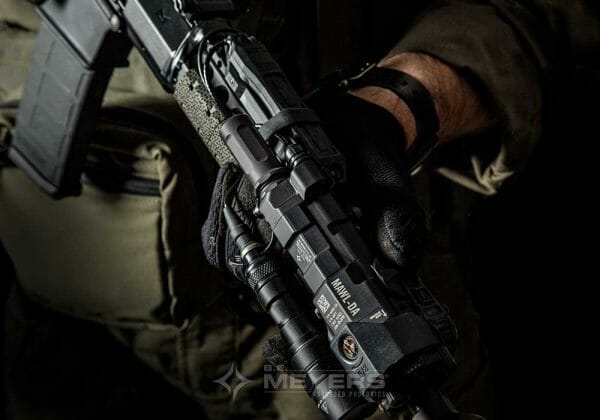 USA – -(AmmoLand.com)- The United States Diplomatic Security Service (DSS) has formally approved the B.E. Meyers & Co. MAWL-DA (Modular Advanced Weapon Laser – Direct Action) for use as its primary weapon-mounted aiming and illumination laser.
Initial bulk orders of the MAWL-DA will provide DSS agents with a welcome advantage during low-light/no-light operations. Each MAWL has been equipped with B.E. Meyers & Co.'s EndCap 2, and incorporates a brand new AA battery adapter for dual power options (AA or CR123 batteries).
As an inherently modular platform, the MAWL allows for a host of future upgrades and modifications. Leveraging the flexibility of the system, B.E. Meyers & Co. developed the AA Battery Adapter for the EC2 (EndCap 2) to the address unique logistical challenges faced by DSS officers. This component simplifies supply chain hurdles in areas of operation where CR123 batteries are not readily available and is fully compatible with all EC2 equipped MAWL variants. The AA battery option maintains the same power output ratings that distinguish the MAWL as the preferred choice for professional end-users.
Prior to choosing the MAWL-DA, the DSS subjected it to rigorous field testing and end-user evaluation trials.
Its overall performance, including its modularity, AA compatibility, and patented near infrared VCSEL technology, ensured the MAWL-DA's selection for DSS Special Agents working abroad under night vision.
The EC2 compatible AA Battery Adapter was designed specifically to meet DSS laser requirements and initial production is being focused on fulfilling current and future DSS orders. B.E. Meyers & Co. plans to make the AA Battery Adapter available through MAWL distributors following the fulfillment
of government contracts.