Loyal reports on his extensive testing of the Burris Veracity 5-25X50mm rifle scope.
USA – -(AmmoLand.com)- Here is my review of the Burris Veracity 5-25X50mm long range Scope, I have tested the heck out of this one with the SCR recticle.
Burris Optics has approached the subject of long-range rifle scopes a bit differently than others. First up is the design of a proprietary reticle. According to the manufacturer the rectile layout removes some of the work of adjusting for elevation and windage during match shooting, or other related long-range shooting activities. When testing this new optical system of the Burris SCR Veracity Riflescope, I started with a Mossberg Scout Rifle in 308 Winchester and applied the scope and rifle to three different rifle reviews.
Throughout several months the scope was re-zeroed to match my reference loads at least 15 times, and remounted twice when rings and bases were swapped out for additional testing. The point here is merely this. At no time did the scope fail to function, zero, or send bullets with accuracy down range.
Massive Test Gun.
With some field work as applied to the 308 Win and even a few runs on a Browning A-Bolt in 6.5 Creedmoor, it was time to pull out all the stops and lock the glass sight down onto a real workhorse as applied to ultra next zip code long-range shooting. This rifle was no other than the brand new just released to writers Ruger Precision chassis rifle in 338 Lapua.
Why move to such a monster you may be asking? Because this scope is advertised as a long-range piece of equipment, and as such it must meet the needs of the ultra-long-range riflemen. Now, if the glass sight won't cut it, the name "Long Range" has to be removed from the product. The new Ruger is a heavyweight target/sniper rifle and equipped across the board as a one mile plus ultra long range gunning system. (see AmmoLand News' Giveaway of the same rifle in 6.5mm Creedmoor)
The Burris Veracity 5-25X50mm Long Range Scope.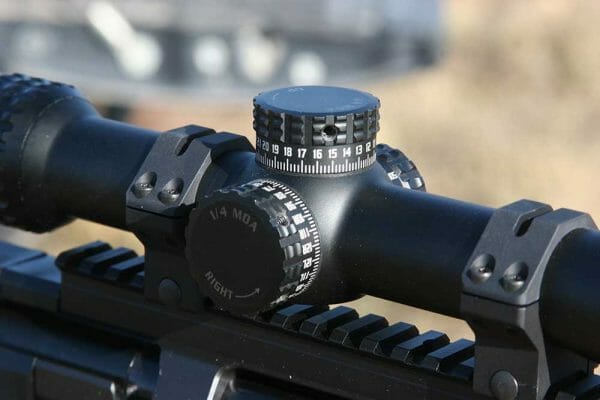 The Burris Veracity retained a uniquely designed top elevation turret that is low profile and carries a full 24 M.O.A in elevation clicks. This turret revolves only once and comes to a stop. This is different from the turrets that will use far fewer stops per M.O.A., and require several turns to reach their maximum elevation setting.
The scope is a first focal plane system, and it will not change impact regardless of the power setting being used after a general zeroing of the rifle/cartridge. The reticle will, however, become larger with higher power settings, meaning the ability of the shooter to see less of the elevation hash marks. Move the power setting to a low magnification position, and you see the whole reticle all the way to a hash mark M,O,A, settings. As to all that good luck, because even with good eyes these numbers are tiny. More info on this reticle from Burris here.
A word to the wise here, Most sniper and sharp shooters make use of a power setting of 10X under most shooting situations. At that setting, you should be able to use sub tensions..
According to my calculations, the scope should (with no roon to spare) be able to push her elevation adjustments to one mile down range when bullets, as matched to the correct cartridge, are applied to proper elevation, temperature and wind conditions. The 338 Lapua is number one in my book and a great finisher in this area of ultra long range shooting. As to exactly why? That is a massive subject best left to still another day.
Going Hot.
With warm air but strong winds on the calendar for a week or more I decided to turn the Ruger 338 Lapua loose on the area I call "The Lake." From a ridge above a 40-acre stock tank, I set up shop by way of a MTM High-Low Case-Gard Portable Shooting Bench, some 30lb sand bags, and a fresh box of Federal American Eagle 250 grain S,P bullets. I was zeroing the rifle for 100 yards, then locking the "zero" stop setting on the elevation turret to allow me to keep accurate track and a quick reference to my elevation adjustments with a return to zero after completing my shooting. This is a snap with the Burris Veracity's turret system, and in three rounds on the paper, I had a dead-on zero established. By loosening two set screws I turned the turret cap to zero, tightened down the screws, and the task of locking in the new zero was completed in seconds.
Shooting from the 800 yard ( ranged ) point on a four-door Ford vehicle ( junked ) it was easy to lock in the target as the scope returned a crisp, clear image at a ten power setting. With winds of a gusting 45 m.p.h. this would be no easy series of shots against a Birchwood Casey "Blue Man" target that was positioned in the back passenger side window of the sedan. It was a standard training setup for "man with a gun call" in open western states This make-believe bad guy is often used in training officers on long range drills. The task for the long-range 338 Lapua and Burris scope was to lay down suppressive fire as flanking police sharp shooters got into position at closer range. Then hopefully connect on the bad guy doing the shooting before other officers needed to risk exposure.
With western mountain wind always being a consideration, the detailed wind hash marks on the horizontal bar in the Burris reticle was very helpful when dialing my D.O.P.E. for the measured 35 mph sustained wind velocity at the muzzle. My data indicated 7.1 inch hold off for each ten mph of cross wind. That suggested that 25 inches of hold off was required, and also my data indicated a 13 m.o.a. hold over would be necessary to make the shot. All this by way of the clear and easy to use turrets on the long-range optic took some of the pressure off regarding making that shot.
Touching off the big rifle produced a two-second lag before I spotted a clean gust of brown dust coming out the back side of the vehicle, followed by the sound of a metallic thud as the bullet passed entirely through the old Fords' body panels. A first round cold bore hit, and I caught myself smiling just a bit. The Burris optic and the Ruger super gun had found a home together without question. Even from where I was shooting I could see a dented change in the door panel just under my Blue Man targets mid-drift. I had shot low, but if this had been a real deal, my target would have been eliminated right there and then.
For the next three days, I pressed the Burris scope and rifle to both A/T hardened steel targets as well as additional shooting on the old Ford. I was in the process of testing to 400 yards through one-half mile the effects of several bullets on steel and sheet metal regarding penetration, and I had in fact put the new Burris to work in the area of R&D. At over $5.00 per round down range you want to learn all you can from every shot to be sure.
Nomenclature
Burris is building the Veracity series of rifle scopes heavier than previous models. More metal and heavier internal parts. This scope retains side focus adjustment, standard eye focus at the back of the tube (eye piece) and those large ones turn easy to use elevation an windage knobs. The system employed on this scopes turrets is called SCR MOA, or Ballistic Plex depending on the shooters choice when purchased.
Sub-tensions are sharp and clear and will change with magnification. A 10X power selection will produce a good image and enough hash mark recognition out to 1000 yard with ease. This scope series did not have an eliminated reticle. This system is available on other models however as offered by Burris.
This scope uses a 30mm main tube and 50mm objective bell. Light gathering quality is outstanding and crisp at all levels. No sign of "rainbow" rim color, or distortion, and side images don't fade out at all. Target image stays sharp at all power levels after rotation of the left side focus knob. After shooting 30 rounds of 250 grain, 338 Lapua through the Ruger and Burris scoped rifle a zero check was matched to the first one produced at the onset of this review. No correction was necessary what so ever. The scope held zero well even in spite of a very heavy stress level cartridge being used against the rifle's receiver.
Burris SCR Veracity 5-25X50mm Riflescope SPECS:
Description: MAD knobs, SCR NON-ILLUMINATED reticle
Reticles: SCR™ MOA
Kit: no
Color: Matte Black
Knob Style: Ships with low capped and low exposed
Illumination: no
Magnification: 5-25x
Objective Lens Diameter :59 mm
Clear Objective Lens Diameter: 50 mm
Ocular Lens Diameter: 44.25 mm
Focal Plane: FFP
Main Tube Size: 30 mm
Field of View: 21 low – 4.3 high (ft. @ 100 yds.)
Eye Relief: 3.50 – 4.25 in.
Exit Pupil: 10 low – 2.0 high (mm)
Click Value: 1/4 MOA
Elevation Adjustment: 64 MOA
Windage Adjustment: 30 MOA
Parallax/Focus: Side focus/PA
Adjustable Parallax: 50 yds. – infinity
Finish: Matte
Length: 16.4 in.
Weight: 28.2 oz.
---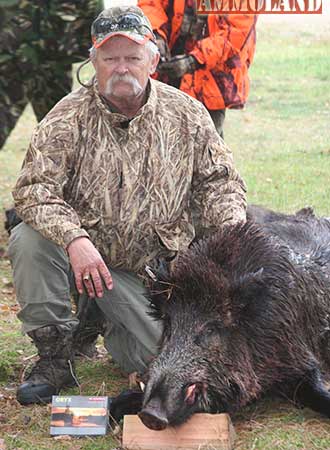 About the Author L.P. Brezny:
With more than 50 years experience in the field and the testing lab, author L.P. Brezny is one of today's most recognized shotgun experts and authors. He is a contributor to dozens of firearms publications, such as Wildfowl, Shotgun Sports, and Varmint Hunters, and he is a regular columnist in the Gun Digest annual. Be sure and check out his newest book: Long Range Shooting, Second Edition