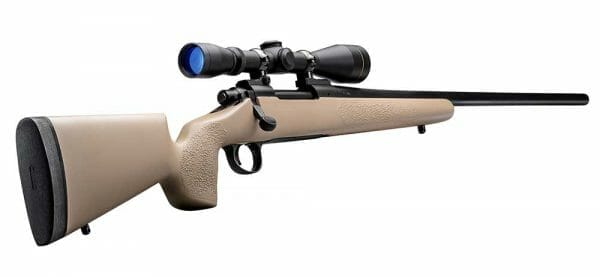 Phoenix, AZ –-(Ammoland.com)- The Mc3 Tradition (Hunting) Stock is the newest generation of high-performance rifle stocks designed, engineered and manufactured by McMillan to be Exponentially Better. Formulated from a proprietary polymer, this classic hunting stock is modeled after McMillan's best-selling hunting stock, the Game Scout and is compatible with most Remington 700 models.
The Mc3 Tradition Stock is available in short and long action Remington 700 rifles with a factory hinged floor plate and a molded barrel channel – Sporter/Magnum (Respectively). The Mc3 stock upgrades the original Remington 700 with a completely solid stock, constructed from a state-of-the-art proprietary polymer blend called Zenolite, resulting in a stronger, stiffer product that serious rifle shooters will appreciate.
The Mc3 Tradition Stock's manufacturing process consists of a unique method that is based on the best-selling McMillan Game Scout design. It also offers superior protection against wear and abrasion for years of abuse and has less shrinkage than other factory or aftermarket stocks.
The Mc3 Tradition Stock weighs 2.8 – 3 lbs., has a fixed LOP of 13.5 inches, available in a Standard BDL or Deluxe BDL, includes a one-inch McMillan recoil pad by Pachmayr, two front sling studs, one rear sling stud and three finish options ‑ Tan, Olive or Carbon Fiber Black. This stock is also competitively priced between $269.00 – $319.00, providing Remington 700 owners an affordable stock improving accuracy and overall strength. Upgrade your old Remington 700 rifle stock with the new Mc3 Tradition Stock and feel the difference today.
The Mc3 stock combines field-proven designs with advanced materials to deliver a custom feel in a cost-conscious package. For more information and specifications on the MC3 Tactical Legend Stock, please visit www.MC3STOCKS.com.
---
About Mc3 Stocks:
McMillan's business philosophy–quality products, exceptional customer service and a commitment to the growth of the firearms industry. Mc3 Stocks follows in the footsteps of the company's rich history by maintaining all of McMillan's properties with the development of each and every stock. Mc3 Stocks are committed to producing affordable stocks for hunting and tactical firearm owners. Since 1973 McMillan has had a competitive edge in the industry and is now one of the most well-known and respected company's in the firearm industry. To learn more about Mc3 Stocks, please visit www.mc3stocks.com, call 623.582.9758 or 1638 W. Knudsen Dr. Suite 101 Phoenix, AZ 85027 USA.
About McMillan Fiberglass Stocks:
McMillan Fiberglass stocks manufactures custom rifle stocks and accessories. Product areas include Tactical, Competition, Benchrest, Hunting & Sport, and Ultralight. Customers include shooters, military, law enforcement, government agencies, custom gunsmiths, and OEM rifle manufacturers.