Opinion
USA – -(AmmoLand.com)- Bless her heart, Marion Hammer just can't help herself. She just had to take a shot at me for exposing some of the financial corruption and poor decisions in the NRA and take some jabs at my dead father in the process. Don McDougal also wants to incorrectly frame my criticism of NRA executives as "hating on the organization."
Let's get one thing straight. I couldn't agree more with the title of Mrs. Hammer's column. NRA absolutely needs strong, proven leadership, now more than ever. Where we differ is that Marion thinks that Wayne LaPierre represents that "proven leadership," and I think he's at the core of the problem.
Of course, when the facts aren't on your side, go for personal attacks.
It doesn't matter whether my father had ambitions to take over the NRA or not. I happen to know that he didn't, but that's irrelevant, just as it's irrelevant whether I'm motivated by a 20-some-year old grudge, or whether Marion or Wayne or others at NRA have accomplished some things to be proud of. What matters is relevant facts. Facts that I laid out pretty clearly, and which Mrs. Hammer and Mr. McDougal didn't bother to address.
I agree with Marion and Don that the NRA has done a lot of outstanding work over the years, and I'm proud to say that my father and many close friends played significant roles in much of that good work.
I've never said that the NRA hasn't done good, and have argued consistently that it is critical that we have a strong and effective NRA with as many members as we can get.
Unlike Marion and Don though, I am willing to recognize when NRA leaders make missteps and mistakes, and when those failures demonstrate an ongoing pattern, they need to be addressed. I'm also not willing to turn a blind eye to blatant corruption and self-serving.
Let's go over some of the pertinent facts again:
According to NRA's tax filings, Wayne LaPierre is receiving annual compensation more than $1.4 million per year, and in 2015 received over $5 million dollars from NRA.
The same filings report that Chris Cox received over $1.2 million in compensation in 2017, and at least nine other NRA executives received compensation that was between $450,000 and $800,000 that year.
Josh Powell, Wayne's Chief of Staff and for a time, former acting ED of General Operations [he has been replaced by Joe DeBergalis], received almost $800,000, including over $100,000 in "taxable expense reimbursement."
And even though the IRS form 990 reports payments to the advertising and PR firm Ackerman McQueen more than $20 million as I reported, later in that same filing document, it states that Ack-Mac actually received more than twice that much – over $40 million!
I will accept a correction from Mrs. Hammer on one point: I incorrectly reported that some NRA staff had been laid off, when in fact they were not NRA staffers, but rather Ack-Mac staffers working for NRA TV, which raises another issue. Did you know that NRA TV is operated by Ack-Mac, as is the NRA magazine America's First Freedom? Editor Mark Chestnut and familiar NRA TV personalities like Cam Edwards, Ginny Simone, Dana Loesch, etc., are Ack-Mac employees, not NRA employees. Long-time NRA Board member Robert K. Brown bragged in his last reelection bio that he had saved the association something like a half-million dollars. The bulk of that savings came from his insistence that NRA quit paying Ack-Mac over $400,000 a year for the production of the online version of America's First Freedom. As a magazine publisher himself, Brown knew NRA was paying way too much.
Marion also reiterated that Wayne and Chris had called for bump-stocks to be "regulated," not banned. That's true, and it was a huge mistake that led directly to the ban. I predicted this result when I called them out for that idiotic statement at the time and called for the Board to repudiate the statement – but Marion jumped to their defense. As I pointed out then, if Wayne and Chris had said that the NRA was open to revisiting the regulations regarding bump-stocks, that might have been excusable as a political maneuver to help dodge negative action in Congress. Though you have to wonder why congressional action was such a concern, when our Republican "friends" held majorities in both houses and the White House. Instead, Wayne and Chris said that the "NRA believes" that bump-stocks should be more tightly regulated, and President Trump quickly agreed and gave the order to BATFE.
Wayne and Chris have taken a similarly destructive and unprincipled position on Extreme Risk Protection Orders, merely insisting that some semblance of due process be included in the laws in order to get approval from NRA. This has given a green light to Trump and numerous Republican governors to pursue ERPO legislation. Legistlation to deprive gun owners of their arms based on someone's concern that they might be dangerous, while leaving these potentially dangerous people free to roam the streets with ready access to knives, gasoline, poisons, planes, automobiles, and all manner of other dangerous and possibly deadly tools. Not only does this result in Republican "friends" doing stupid things that push GunVoters away from them, at least one person flagged by one of these ERPO's has been killed by police trying to confiscate his guns. Have any lives been saved?
It is also a fact that NRA was over $30 million in the red in 2017, and had an almost $50 million deficit in its pension fund. These deficits aren't due to lack of revenue, but rather irresponsible spending.
In short, Marion Hammer and Don McDougal are saying that since NRA has accomplished some good things during Wayne LaPierre's 30 years at the helm, the members and the Board of Directors should be unconcerned about a $30 million deficit, profligate spending, cronyism, and obscene salaries. Nor should they be concerned about the failure of NRA leadership to adhere to the core principles of the Second Amendment, or to ensure that all operations are above reproach and squeaky clean. And we shouldn't be at all worried about an outside vendor owning and controlling major segments of NRA operations, and making tens of millions of dollars in profit from our association.
I respectfully disagree.
I believe that principles matter, even when they are politically challenging. That giving our enemies ammunition by being careless about our business is inexcusable. And that the NRA should be controlled by a board of directors elected by the membership in fair and open elections, without interference from outside vendors or others with a financial stake in our leadership. I also believe that those who work for the NRA, especially in the higher echelons, should be motivated first by their dedication to the Second Amendment and the safe enjoyment of the shooting sports, not by monetary factors. That's why I believe that Wayne LaPierre, with his waffling, wheedle words, outrageous salary, and cozy relationship to Ackerman McQueen, needs to go, and that the NRA needs a strong, committed, Second Amendment purist with a solid corporate management background, to lead the organization going forward.
This isn't personal, and it's not politics. It's not about "tearing down" the NRA or building up any other organization. This is about principles, right and wrong, and what's best for the NRA, gun owners, and America.
---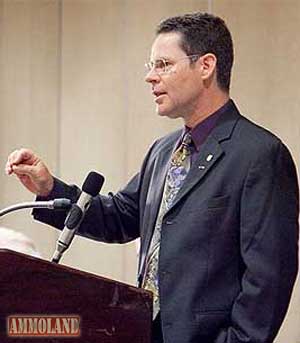 About Jeff Knox:
Jeff Knox is a second-generation political activist and director of The Firearms Coalition. His father Neal Knox led many of the early gun rights battles for your right to keep and bear arms. Read Neal Knox – The Gun Rights War.
The Firearms Coalition is a loose-knit coalition of individual Second Amendment activists, clubs and civil rights organizations. Founded by Neal Knox in 1984, the organization provides support to grassroots activists in the form of education, analysis of current issues, and with a historical perspective of the gun rights movement. The Firearms Coalition has offices in Buckeye, Arizona and Manassas, VA. Visit: www.FirearmsCoalition.org.