Opinion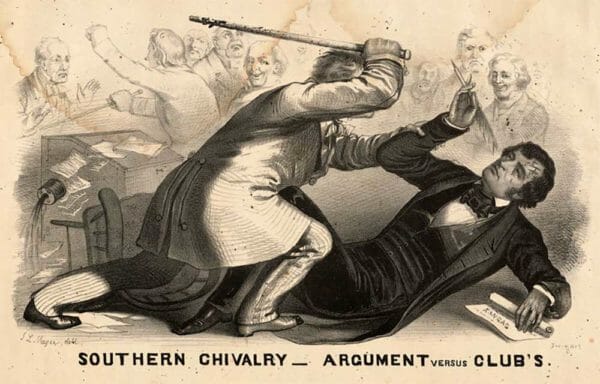 USA – -(AmmoLand.com)- Have you ever heard of Sen. Charles Sumner (R-MA)? How about Rep. Preston Brooks (D-SC)? Probably not, and I wouldn't hold it against you. Both men served in Congress back in 1856 before the outbreak of civil war, and in some ways, both men came to symbolize one of the many factors that brought America to that hellish place: The breakdown of public discourse in politics. Does any of this sound familiar?
Sen. Charles Sumner was an anti-slavery Republican from Massachusetts who, on May 19th, 1856 gave a fiery speech on the floor of the Senate chamber that he titled "Crime Against Kansas." At that time, the nation was debating the entry of Kansas to the Union as a slave state or a free state. Sen. Sumner, being anti-slavery, used very colorful language, even by today's standards, and called out two other members of the Senate, Sen. Stephen Douglas (D-IL) and Sen. Andrew Butler (D-SC) whom he deemed to be mostly responsible for the crime of slavery debated in Kansas.
During his speech, Sumner looked Douglas directly in his face and called him a "noise-some, squat, and nameless animal . . . not a proper model for an American senator." Andrew Butler, who was not present during the heated speech took it on the chin from Sumner who pulled no punches when describing him as someone who had taken "a mistress . . . who, though ugly to others, is always lovely to him; though polluted in the sight of the world, is chaste in his sight—I mean," added Sumner, "the harlot, Slavery." Bold words indeed during what was a very contentious debate. While Butler was not present in the chamber that day, word got back to his Democrat colleague and second cousin, South Carolina Rep. Preston Brooks who did not take kindly to what he had heard. Surely to Brooks, those were fighting words.
Three days later on May 22, 1856, Rep. Brooks would walk into the U.S. Senate chamber holding a "metal-topped" cane. Approaching Sen. Sumner who was seated and folding his written versions of his "Crime Against Kansas" speech for delivery to members of Congress, Brooks violently swung the cane down upon the top of Sumners' head.
According to the official version in the U.S. Senate archives, "Moving quickly, Brooks slammed his metal-topped cane onto the unsuspecting Sumner's head. As Brooks struck again and again, Sumner rose and lurched blindly about the chamber, futilely attempting to protect himself. After a very long minute, it ended."
It ended all right, with a sitting U.S. Republican Senator violently beaten on the floor of the "old chamber," bleeding and beaten within an inch of his life. Brooks, according to reports, calmly exited and was not taken into custody. On the other hand, Sumner received much needed medical attention. He survived after a lengthy recuperation period of three years and would go on to finish an additional 18 years as a Senator from MA. Brooks, while never detained was given a slap on the wrist, never being held legally accountable for his actions. In fact, he resigned in July 1856 so a special election could take place and he was immediately re-elected by his Democrat constituents to fill the slot that opened due to his resignation. He died days before his new term was to begin.
So why do I tell you of this fascinating piece of American history?
To remind you, as we watch the hate-filled rage of today's modern Democrat (Socialist) from leftist actors, professors, fake journalists and elected Democrats such as Waters, Pelosi, Schumer, Cortez, and too many others to count, of their hate-filled legacy. You see, back in 1856, according to the U.S. Senate page, "Overnight, both men became heroes in their respective regions." You read that correctly. Democrats across America during the antebellum years, praised the violent actions of a fellow Democrat against a Republican, an act that almost killed him and was likely intended to do so. The town of Brooksville in Florida, previously the county seat of Hernando, took its name that year in honor of the violence of Brooks' actions. Again, you read that correctly.
So here we are today facing a newly emboldened Democrat party of Socialists with a well-known but little-discussed history of violence. A tale that not only supported slavery and bigotry but would go on to give the nation some of the most racist laws of all in the form of post-civil war gun control and Jim Crow laws. We would be ever wise to remember when we see Kathy Griffin holding a severed head of a sitting president or Democrat officials calling for mob actions against their Republican colleagues that they do have a history of such violent action against their political rivals. It is no coincidence that the Democrats hide their past, the media assists them, and the calls for civilian disarmament continue, just as they did pre and post civil war.
How bad can it get? I'll leave you with the final sentence from the Senate site regarding the caning of Sen. Charles Sumner;
"The nation, suffering from the breakdown of reasoned discourse that this event symbolized, tumbled onward toward the catastrophe of civil war."
You be the judge.
---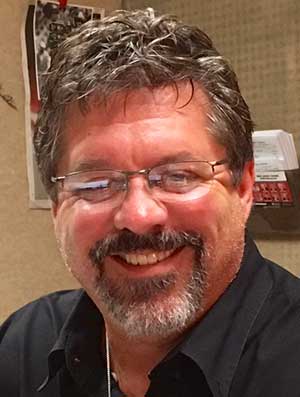 About Mark Walters
Mark Walters is the host of two nationally syndicated radio broadcasts, Armed American Radio and Armed American Radio's Daily Defense with Mark Walters. He is the Second Amendment Foundations 2015 Gun Rights Defender of the Year award recipient and co-author of two books, Lessons from Armed America with Kathy Jackson (Whitefeather Press) and Lessons from UnArmed America with Rob Pincus (Whitefeather Press)