DANVILLE, Ala. – -(AmmoLand.com)- Introduced at the Archery Trade Show in January to rave reviews, ElimiShield's new Hunt X10D concentrate is now available. This unique scent-elimination formula is a long-term treatment that prevents the formation of human body odors on clothing and soft-good accessories, and costs mere pennies to treat each piece of clothing.
When used as directed, X10D bonds to the fibers to create a chain of atoms that produces an uninhabitable surface for odor-causing compounds, thereby making the treated garments virtually scent-free.
While it sounds complicated, it is really easy to use. Each 10-ounce bottle of X10D will treat 10 pounds of camo clothing and/or soft gear in only 10 minutes. Think: 10-10-10. Simply add one ounce of X10D per pound of clothing (up to 10 pounds) to three gallons of 110 to 150 degrees Fahrenheit water in a bucket. Stir well and add the clothing and let the garments soak for a minimum of 10 minutes; wring the clothing out, and hang until just damp. Then place them in a clothes dryer until dry. This will create a nearly permanent odor-resistant shield that will last up to 50 commercial grade washings or typically 5+ years for most hunters.
It is recommended to treat only those garments that actually touch the skin and/or are actually exposed to body odor, such as undergarments, gloves, socks, and hats. With proper use of the ElimiShield X10D, your undergarments will remain odorless and will keep your body odor contained.
For the best results in the field, ElimiShield recommends using all four HUNT products in the three-step odor elimination system developed specifically for hunters. Step A is personal hygiene, including Core Body Foam—the outdoor industry's only FDA-compliant, direct to skin scent elimination product—as well as a Hair & Body Wash. Step B is laundering hunting clothes with ElimiShield HUNT Laundry Detergent. Step C is the Scent Elimination Spray and X10D Concentrate.
The new ElimiShield HUNT X10D Scent Elimination Concentrate is now available directly from Hunters Safety System at www.HunterSafetySystem.com/ElimishieldHunt for a suggested retail price of $39.99.
---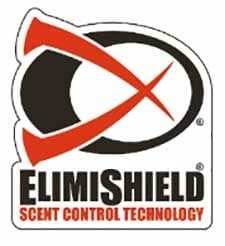 About ElimiShield Scent Control Technology
The patented, proprietary, nanotechnology formula in some of the ElimiShield HUNT products leave a microscopically abrasive shield that eliminates odor-causing particles on contact. This mechanism is far superior to other methods that either poison bacteria or attempt to absorb human odors after they form. In addition to the nanotechnology, certain ElimiShield products include bio-based ingredients to neutralize malodors that are encountered in the field, ensuring all surfaces remain scent-free. Hunter Safety System, the industry leader in treestand safety, is the exclusive distributor of ElimiShield HUNT products to the outdoor industry. For information on this line, contact Hunter Safety System, 8237 Danville Road, Danville, AL 35619; call toll-free 877-296-3528; or visit www.HunterSafetySystem.com