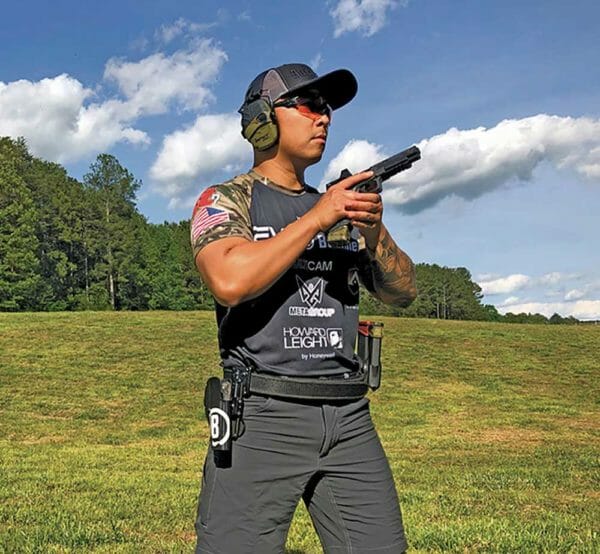 TALLADEGA, Ala. –-(Ammoland.com)- Fresh from his win at the 2019 US Steel Nationals where he set a new record in Carry Optics Division, shooting speed freak, KC Eusebio, has earned his sixth Open Overall World Speed Shooting Championship title.
The remarkable accomplishment took place at Talladega Marksmanship Park on May 15 at the 2019 World Speed Shooting Championships. KC competed with his ZEV KC OZ9, Limcat 2011 and Volquartsen Scorpion pistols and Howard Leight Impact Sport MULTICAM hearing protection.
"My 6th Open Division victory was very special, and being my first competition under the Howard Leight banner only made it better," says Eusebio. "My Impact Sport MULTICAM electronic hearing protection not only helped me hear the report of the steel targets better, but also protected my ears from the loud concussion of my pistol.

"My hearing is a priority in the many important aspects of my life away from shooting, so I trust Howard Leight technology to protect my ears every time I step foot onto the range," the world champion continues. "I'm proud to be a part of the Howard Leight Team."
KC's next match is the USPSA Area 7 Action Shooting Competition at Dunbarton, New Hampshire on June 21-23, 2019.
---
ABOUT HOWARD LEIGHT BY HONEYWELL
Howard Leight safety products empower individuals and families across the globe to enjoy more and worry less. Our industry leading hearing and eye protection help people more safely enjoy the events and activities they love. Our broad selection of comfortable and stylish protective eyewear delivers safety without compromise. Building on over 30 years of innovation, we're continually developing new designs, materials and technologies to enhance comfort and protection for industry trade professionals, recreational and competitive shooters, DIY homeowners, and all fans of live music and sporting events. Whatever your passion, trust Howard Leight to block out the noise so you can listen to what's important, while staying safely focused on the big moments that matter. Learn more at howardleightshootingsports.com.