USA – -(AmmoLand.com)- I just got back from sharing coughs and sneezes with 81,283 of my closest friends and am still alive to tell about it.
This year's NRA Annual Meeting and Expo was in the great city of Indianapolis, Indiana. I attended the NRA AM there a few years ago, and it was one of the better NRA events I've ever attended. The city showed a welcoming attitude and logistics were as easy as it gets considering the number of people arriving en masse.
I spend most of my time at this event wandering the halls and trying to navigate traffic to see the products. With 800 exhibitors covering 15 acres, that's about 650,000 square feet of goodies and totally worth you attending. There's a lot of guns and gear to look at. Here some of the interesting finds this year…
The National Anthem
I guess this stands out every year, but this year I was in the busy and noisy food court just before the doors opened Sunday morning. At a couple of minutes before ten, a young woman started singing the National Anthem, which was broadcast over the entire Convention Center's sound system. No one had any idea where she was, but all talking, movement and noise came to a complete halt. Even the half-dozen food service facilities stopped cooking. Hats off, hands on hearts, and pure silence ensued until the end when applause erupted. That was cool. I felt very American.
350 Legend
There's another new cartridge in town. Here's why the 350 Legend is interesting.
While it doesn't use a re-worked .223 Remington case, it shares the same rim diameter, so it's naturally compatible with standard AR rifle platforms. It's a straight wall cartridge that accepts a .357-inch diameter projectile. You might recognize that from .38 Special and .357 Magnums. Most loads will use projectiles in the 120 to 240-grain range.
Given the case capacity, it's fast for a straight wall cartridge and delivers more down range energy at 200 yards that .30-30, 300 Blackout, and .223 Remington. The 350 Legend was initially developed as a hunting cartridge, but I suspect it will catch on for defensive use too. It's effective out to about 250 yards for deer-sized game.
Galco Parabellum Shoulder Holster
I stopped by the Galco booth to torment my long-suffering friend Mike, and I'm glad I did. He showed me a new shoulder holster creation from Galco that's in the works and coming to market real soon. The Parabellum Shoulder Holster is a blend between the Miami Classic II Shoulder Holster System and the King Tuk Hybrid Holster. It's cool. This rig uses the shoulder straps from the Miami Classic II series but with new and improved (and much easier to adjust) straps. That allows you to tweak the fit and holster ride height. Instead of screws, the system uses Harness Fasteners which are kind of like tuxedo studs – no tools required.
The pistol side uses a leather back panel that separates your handgun from your body mated with a Kydex shell. In fact, it's the same one that the King Tuk models use. On the opposite side are two Kydex magazine carriers. I asked Mike if the mag carriers were capable of holding more than seven rounds. He said, "Why yes they are so this holster will probably be banned in California!" Yes, we were joking. But not really!?
Initially, this rig will be offered for Glock 17/19/22 etc. pistols. Popularity will determine availability for other models. I can't wait to check it out. It's light and thin and will work beautifully with my white dinner jacket.
Seismic Ammo
The "big and slow" versus "fast and light" debate has a new entry. The folks at Seismic Ammo (appropriately named I think) offer a new twist on heavy-for-caliber ammunition. Can you say "thud?"
I spoke to the inventors about their new 9mm round, and it tips the scales at a whopping 185 grains. Depending on barrel length it cranks along at between 900 and 1,000 feet per second. Obviously, the projectile is much longer than a standard 115, 124, or even 147-grain bullet, so something has to give, right? Well here's one secret. The company uses the two-part Shell Shock Technologies case because the design allows for more interior volume while providing even more strength. The stainless-steel case has twice the burst rate of brass. The extra room for powder allows the large bullet to have enough powder juice under it to hit the required velocity figures while keeping pressure in the high +P range.
Full expansion happens at about 875 feet per second. The company is sending batches of the heavies off to the lab for formal FBI protocol testing. Stay tuned.
Trijicon SRO Red Dot Sight
A few years ago, Trijicon released the RMR sight – idea for handgun use. It's small, compact, and pretty much indestructible. The only downside is that it contains a small viewing window and it can be hard to find the dot when you're in a hurry.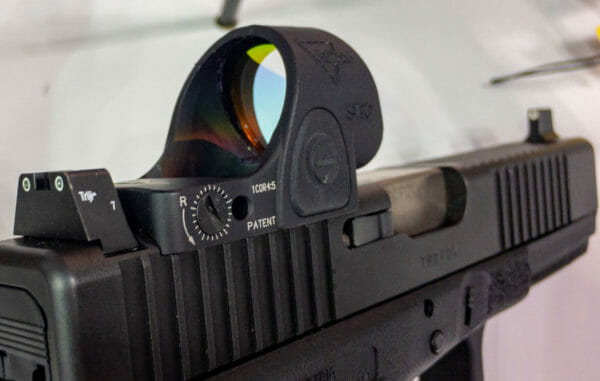 New this year is the SRO. In comparison, the RMR is like a cruise ship porthole while the SRO is a sliding glass door. It's huge. While the RMR used a rectangular glass, the SRO is rounded, and the visual effect is stunningly different. The SRO acts much like a large red dot optic on a rifle. You can't miss it.
The SRO uses a top-loading battery tray so you won't have to re-check the zero when replacing the CR2032 battery with a lithium upgrade. That won't often happen, however, as the SRO will run for a continuous three years when intensity is set at level four of eight. If you want to leave it on a bright setting, just change your battery once a year, and you'll never have to worry about it. The SRO also uses the same footprint as the RMR for broad pistol compatibility. If you run a Glock MOS or Springfield Armory OSP, you'll need a Trijicon mounting kit.
Sig Sauer P320 X-Compact Pistol
I'm Jonesing for a new pistol. The Sig Sauer X-Compact is the latest iteration of the P320 family. This one has a slender X-style grip, and it's nothing short of fantastic. Love the ergonomics of it. The X-Compact also features a flat trigger that's excellent – smooth and crisp.
The X-Compact is ready for optics with a removable plate on the side. Out of the box, it fits the Sig Romeo 1 Pro, Romeo 2, and Leupold DeltaPoint red dot sights. The standard irons aren't shabby either. This model is equipped with the XRay 3 Front Night Sight and Rear SIGLITE Night Sight. You can get an X-Compact in all black or a flat dark earth color. For now, this model is offered in 9mm and ships with two 15-round magazines.
Apex Tactical Goodies
Apex Tactical has some new goodies out for the hot new FN 509 pistol. The sexy one shown here is the extended-length slide and barrel kit. It's five inches long and decked out with cuts and holes for weight distribution – and it just looks good. The barrel comes with the kit and is pre-fitted to the slide, so it's a drop-in upgrade.
The company is also adding a curved trigger option to its standard flat trigger upgrade. The shape changes the reach and trigger finger geometry. While the flat trigger is excellent for those with larger hands or longer fingers, the curved trigger may be a better fit for those with smaller-sized hands.
Crimson Trace CTS-1100 3.5x BattleSight
Crimson Trace has gone hog wild in the optics arena with the recent venture into red dot sights and rifle scopes. The neat one I checked out at the NRA Annual Meeting was the 3.5X BattleSight. This AR-friendly red dot sight offers fixed 3.5x magnification with ten different illumination intensity settings.
What I like about this one is that the 3.5x magnification offers a sweet spot. It's low enough that you can use this optic like a red dot sight at close range. The 3.5x magnification also offers just enough optical oomph to zero in on targets a few hundred yards out with much more precision than offered by a standard 1x red dot sight. The reticle is a hybrid ballistic drop style. A large 36 MOA circle surrounds a vertical arrow with a fine center aiming point. With a 100-yard zero, the horizontal hash marks correspond to fixed yardages when shooting AR calibers like .223 Remington and .308 Winchester.
LASR – Laser Activated Shot Reporter
The LasrApp is software that allows you to set up targets and shooting scenarios using just a smartphone, tablet, or laptop equipped with an external camera. Smartphones and tablets use the internal camera. Here's what it does.
You shoot either a training gun like the SIRT pistol, one of the LaserLyte models, or a real pistol with a laser cartridge in the chamber. Basically, anything that projects a laser dot will work. The software allows you to define "target areas" in front of the camera. A target can be anything: a real paper target, a doorknob, a picture on the wall, a piece of cardboard or paper plate, and anything else. The software doesn't care because you outline whatever you want to use for your target and that's what the app monitors. The app then watches that area for laser impacts and tracks them as shots. That's the basic, but there's a lot more to the system. Since it can track hits and because computers are smart and have functions like clocks, the app can give you a random starting beep for an infinite number of training drills.
You can practice your draws to see how quickly you can get an actual hit on target. You can define multiple targets and define the number of shots that each requires. You can define up to 20 target zones and specify how many each requires to disable. You can set up multi-shooter drills. The software can call targets for you to hit. You know, yell something at you like "Number 3!!!" The software can demand reloads during the sequences. You get the idea – the sky's the limit. And all of this can be done safely inside your home.
Aimcam Glasses
Aimcam makes shooting glasses with a twist. Just above the bridge of the nose on these glasses is a tiny camera lens. This lens allows you to capture and record point of view video for just about any activity. Video is captured and stored on an SD card, and the guts of the camera and operating controls are on the frame of the glasses themselves. A Bluetooth-enabled companion smartphone app allows you to preview what the camera will see and record before you start the action.
This nifty invention has lots of productive uses. I can see it as great for training to see and evaluate your shooting performance – in slow motion. Into shotgun sports? That same slo-mo replay later will help you analyze your shots so you can see exactly what you did on missed targets. It could have interesting hunting applications too. Whatever the use, it looks like a lot of fun with some real potential benefits. I'd love to record relevant portions of my next training class for a detailed analysis of what I screwed up.
Next year, the NRA Annual Meeting will take place in Nashville, TN, from April 17th through 19th. Given the location, you can count on some great after-show entertainment events.
About
Tom McHale is the author of the Practical Guides book series that guides new and experienced shooters alike in a fun, approachable, and practical way. His books are available in print and eBook format on Amazon. You can also find him on Facebook, Twitter, Instagram, and Pinterest.