U.S.A. – -(Ammoland.com)- As is often the case, I came across the graphic this article is based on while looking for something else. It's a promotional poster from March 2018 offered at the Moms Demand Action Facebook page, which provided this description:
"Eleven-year-old Naomi Wadler delivered a passionate speech at yesterday's #MarchForOurLives. Naomi organized a walkout at her school, adding one minute to represent Courtlin Arrington and all the black girls and women whose deaths don't make the news."
Comments from adoring supporters were gushing. She's "fabulous" and "amazing." She's "SO much more eloquent than the president that it's embarrassing!"
Wadler is, no doubt, a precocious child, with a presence and a purpose that most her age won't exhibit until much later in life, if ever. We can stipulate that she's a remarkable young lady. That doesn't mean she has any answers, or that her adult cultivators and handlers aren't pros at exploiting sympathy to create exactly the kind of approval-signaling responses we see from her admirers.
What matters here is ginning up emotions. That's how "progressive" causes work.
We're told this is all about "commonsense gun safety laws." Let's take a look at the stories behind the girls being commemorated and see if anything the Moms and the Marchers demand, at least publicly, would have made a bit of difference for the victims.
"I am here today to represent Courtlin Arrington. I am here today to represent Hadiya Pendleton," Wadler announced to the wildly enthusiastic March for Our Lives crowd. "I am here today to represent Taiyana Thompson, who at just 16 was shot dead in her home here in Washington D.C."
Arrington was killed when she asked a then-17-year-old classmate to see a gun he had illegally acquired and illegally brought to school. The gun "discharged, striking her in the chest" and he "was putting the gun in the waistband of his pants when the gun went off a second time and struck him in the leg."
They could have certainly used some "commonsense gun safety" there, notably Cooper's rules.  But what "law" would have prevented this, especially since both teens had already shown they had no intention of obeying them?
Pendleton was in the wrong place at the wrong time when gangbangers opened fire on what they assumed were members of a rival gang she was standing with. Again, a host of laws were ignored, including the big one against premeditated murder, and the "gunman" was actually out on probation for an earlier "aggravated unlawful use of a weapon" conviction.
Thompson's killing was at the hands of a boyfriend who had previously been "accidentally released" after he was caught selling drugs.
"[T]he teen was playing with a gun when it 'accidentally' went off," his defense claimed. He did not report the shooting and ran away leaving her to die. But they "loved each other in their own young, teenage way."
So what do you think? Universal background checks? "Red flag" confiscation laws? Semi-auto bans? Raising the age to legally buy a rifle from an FFL to 21? See anything that would have made a damn bit of difference in any of these stories?
Not that the cud-chewers reveling in Wadler's "wisdom" would be able to provide a coherent response to such questions — all they know is we have to do something! It doesn't matter that, all this misdirection about "commonsense gun safety laws" notwithstanding, the only thing that could even pretend to have an impact would be a total ban on all guns, which we know is a goal of the power-mad minds behind the useful idiots.
And we all know how nothing says "Stop the violence" like prohibition.
---
About David Codrea: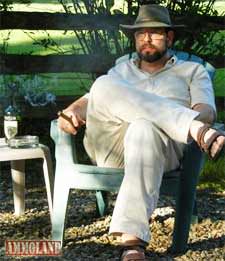 David Codrea is the winner of multiple journalist awards for investigating/defending the RKBA and a long-time gun owner rights advocate who defiantly challenges the folly of citizen disarmament. He blogs at "The War on Guns: Notes from the Resistance," is a regularly featured contributor to Firearms News, and posts on Twitter: @dcodrea and Facebook.