Opinion
USA – -(AmmoLand.com)- I've meant to get to this column for the past week, but other stuff kept getting in the way, until now. So here it is. Tombstone, Arizona is one of my favorite places on Earth. I remember years ago when the movie, starring Kurt Russel, came out.
I was watching it with my then girlfriend, (now my wife), and a buddy and his girlfriend, soon to be his wife. A big history buff of that era anyway, I commented to all in the room that the movie inspired me to make the trip and that I intended to go there for myself. They nodded in agreement, and a couple of months later, we landed in Phoenix, picked up an RV and headed off to the dusty streets of Tombstone, Arizona.
That was in 1994. Since then, I've been back every year, sometimes more than once and have broadcasted no less than four radio shows from those famous streets. I've made lifelong friends in town, from street actors to hotel owners and Tombstone Marshal's Deputies. I've supported the efforts of the town's tourism and Lions clubs and heck, even walked the streets with Alan Gottlieb. Just this past year alone by the time September rolls around, I will have been there a total of three times. So what is it that draws me to this admittedly out of the way place in the middle of the desert?
I've asked myself many times. Of course, it's many things, from the incredible and rich history of the town's origin, sprung up from one man and his mining claim "back in the day." Prospector and sometimes Indian Scout, Ed Schieffelin would stay in the relative safety of Army Camp Huachuca (now Fort Huachuca) a recently set up camp to counter the Apache Indian threat in the area and help protect settlers heading west. Ed would head out into the desert region by night to prospect for silver in the dangerous lands east of the San Pedro River only 12 miles or so from the Apache camps. Told by a fellow Indian Scout that the only thing he would find in those hills would be his Tombstone, Ed never gave up.
Of course, Ed Schieffelin and his three partners struck it rich, and it wasn't long before word got out that there was silver ore in those hills. Eventually, a mining camp formed and grew into what would soon become the city of Tombstone, named after their first mining claim, named after the fact that's what he was told he would find as he left the safety of the Army camp. The rest, as they say, is history.
Today, Tombstone thrives on tourism dollars as a living testimony to the Old West. A place rich in the history of the gun, both good and bad, has named itself by proclamation, America's first Second Amendment City. Now, the last weekend in June each year, the city hosts it's Freedom Days celebrating the 2nd Amendment and our Bill of Rights. This year, I was asked to be a part of the festivities with actress Morgan Brittney, Cochise County Sheriff Mark Dannels and MLB legendary pitcher, Curt Schilling. The four of us participated in a "meet and greet" event with attendees at the Oriental Saloon on Friday, June 28th 2019, walked in the parade on Saturday morning June 29th, then hosted a town hall meeting at Schieffelin Hall later Saturday evening. I had the honor of moderating the panel on stage, and the event was a colossal sold-out success.
Myself playing a large role in organizing the festivities over the preceding few months, It was fun to see Tombstone thriving over the weekend. I was thrilled to see local Tucson television media show up with crews to cover the event, everyone from the meteorologist to the sports crews to interview Curt.
As we gathered in front of the world famous Crystal Palace Saloon for a live sports hit with Schilling, (who you may remember was the 2001 MLB World Series MVP with the Arizona Diamondbacks), the prospect of the live, on-camera interview took a radical left turn.
Out of nowhere, Curt was asked by the crew that he not wear his Trump 2020 ball-cap and not mention "the second amendment" by name during the interview. Of course, we were all shocked, and Curt politely declined the live discussion. The crew then asked if I would do the interview. "You want me, as the host of Armed American Radio, not to mention what I do, what we're celebrating, and why I'm in town? "I'm sorry, no," was my reply. The crew was very apologetic and made it clear it was their management that was censoring the interview. They (the news team) were so fun, they stayed for the festivities well into the evening and had a blast. I felt sorry for them. It wasn't their fault.
As bizarre as that one single incident was, the entire weekend was a roaring success for all involved. To me, it was special to see a few thousand folks turn out on a blazing hot midsummer Arizona afternoon and evening to participate in celebrating our Second Amendment recognized rights. If you ever have a chance to go a little out of your way to see this fantastic little "Town too Tough to Die," I can promise you won't be disappointed.
Make plans right now for next year's event on the last weekend in June, and I'll see you there.
Mark Walters
---
About Mark Walters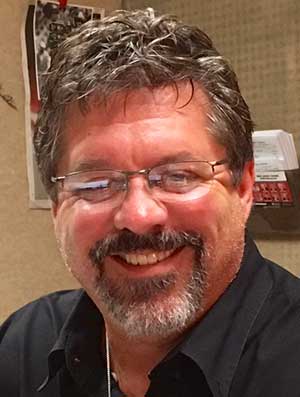 Mark Walters is the host of two nationally syndicated radio broadcasts, Armed American Radio and Armed American Radio's Daily Defense with Mark Walters. He is the Second Amendment Foundations 2015 Gun Rights Defender of the Year award recipient and co-author of two books, Lessons from Armed America with Kathy Jackson (Whitefeather Press) and Lessons from UnArmed America with Rob Pincus (Whitefeather Press)