Opinion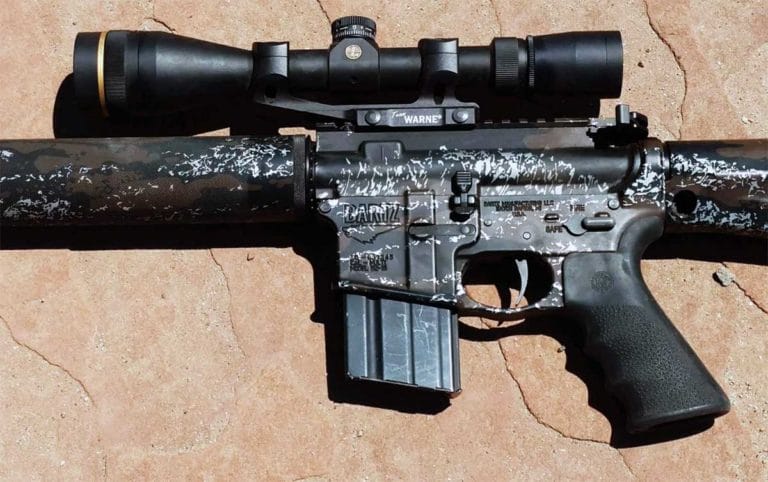 Colorado – -(AmmoLand.com)- Over the years, I have put a lot of rounds down range with AR platforms on paper on steel, on all kinds of targets, and plenty of flesh and bone… some rounds sent for good reason and required qualifications or credentials, some just keeping skills tuned, and a few racing the clock, and some cause I like red meat and want to eat right.
I had a fortunate opportunity to be sent this Brenton USA AR Hunting Rifle after several phone discussions with Bartt Brenton, Founder – Brenton USA (Formerly Bartz Manufacturing). We talked hunting with ARs and specifically how we hunt, my hunting philosophy and my style of hunting, that I advocate for teaching youth, first-timers, females, and Vets who have never hunted – to hunt with an AR (ARHunters) and why. Those where good discussions.
Bartt talked about his philosophy on building quality …. premium AR Hunting Rifles in the AR15 platform. Brenton USA builds ONLY AR Hunting Rifles – no tactical, no pistols, no AR10s. Just a 100% focus on a quality AR Hunting Rifle from the AR15 platform. In this review, I am going to share with you my experience with the rifle they sent. It has been a while since I have reviewed anything and life had a few adjustments for me the last little bit.
A side note to this review though…. this review was originally to be about a specific Caliber this rifle is chambered in and less about the rifle itself. Its chambered in a unique caliber the pros at Brenton USA are working with, I wanted the scoop and they wanted a third party review of the ballistics and field data that comes with successful hunts. So as it stands at the moment the caliber is not yet on the market – I am not privy to those timelines or discussions and so whenever that does happen I will have a canned and cued discussion ready about that specific caliber as well, then I can discuss our experiences and the detailed results of the caliber directly.
Brenton USA Premium AR Hunting Rifle Overview
First, you have to understand this is NOT a budget Rifle, nor an assembly of parts kind of build. This isn't an "assault rifle," this isn't a Black gun, it is a top-shelf premium quality rifle. A Hunting Rifle made on the AR Platform. From the moment you unbox it or put hands on it…. you know this is an AR Hunting Rifle made by an Engineer. Brenton USA is founded precisely by an accomplished Engineer, and it is clear and highly evident in the premium AR Hunting Rifles they build. Many if not ALL of us AR Owners have one or more Budget Builds or Budget Buy ARs. Some of you may have never put your hands on a premium built AR like this and fewer that are purpose-built specifically to be a Top Shelf AR Hunting Rifle. I am here to tell you there is a difference and you will know it when you look at what they are doing at Brenton USA.
Remind yourself as you read this review this is about an AR Hunting Rifle, a specific and specialty build designed around the hunting ethos and purpose. The Brenton AR isn't a home defense, all-purpose, recreational AR15 you take hunting. This is truly a dedicated Hunting Machine, and very few companies focus on this specific niche – it is ALL Brenton USA does. They are doing it well is my observation and experience, but let's get into that.
Brenton USA Premium AR Hunting Rifle: The Build
The moment you see the Brenton Premium AR, you know it is different. It looks sleek; it looks like a rifle ready to go hunting. The finish is, of course, the first thing your eyes see. They have done a great job. They are using Marblekote with a choice of 4 options… I like all 4. There are small details you won't see until you start looking at every single piece and part that comes together making this AR Hunting Rifle.
The first thing I usually do is pop the rear takedown pin, flip open the rifle and slide out the Bolt Carrier and Charging Handle. This often is the start of the judgment to myself about a company's build philosophy…. lets back up a second before you judge me – not only am I an avid AR shooter/hunter, but I have previously owned a company that too built custom ARs. We constructed and I designed mission-specific models, and custom individual builds as a Boutique Manufacturer – meaning we were not a mass-producing company but a custom upper-end AR shop. I know what details stand out and I can see right away what details a company is focusing on, or not when I look into an AR. Brenton USA is using my preferred kind of finish on the Bolt Carrier, and that is the NiB finish for its smoothness & reliability, easy maintenance, and ability to withstand harsh treatment. Even their Charging Handle is enhanced with the "HunterSize" Charging Handle and is not a "standard" insert. I was satisfied, ready to enjoy my experience diving into this rifle.
The Brenton BT-1 Trigger Though…
I have had this rifle so long they have made upgrades & changes to their rifle models. The first upgrade was a drop-in trigger. When this Hunting Rifle was sent for review, they had not yet launched the Brenton BT-1 Trigger, and when they had one ready, one of their very first ones, they sent it to be installed.
The Brenton USA BT-1 drop-in trigger is everything you want in a trigger – plain, simple, dependable. This is a great trigger that meets all the standards of what a "Smooth and Crisp" feeling trigger is supposed to be. This is not a third party drop-in or upgrade – the adjustable (3.0 lbs to 6.0 lbs pull weight) BT-1 is their in-house design, solution, and answer to the whole "Go Button" of what anyone wants in a trigger. If you decide you don't want a dedicated and mission-specific AR Hunting Rifle, you will want, and I will recommend this trigger (sold separately as well, backed by a Brenton USA Forever Warranty) dropped into one of the ARs you do own.
The Handguard on this rifle has been upgraded to a Carbon Fiber Handguard back at my HQ, so I am not reviewing it, but that is a weight-reducing upgrade I can endorse. The barrel is a threaded match grade barrel that includes a Black Nitride protective finish This barrel is accurate and consistent, but since it's in a caliber I am not speaking about I am just telling you – its a great barrel and they are doing everything right with their barrels including the threaded end and protector included.
If I have one thing to comment on it is that I would want to see Brenton USA design and offer their own muzzle device(s) as an included option.

This is my personal experience – muzzle devices are helping reduce recoil and muzzle rise for our youth shooters, first timers, females and Vets at ARHunters and that is important to our style and kind of instruction and shooting. Controlling recoil and muzzle rise also practically allows for a fast follow up shot(s) if needed and helps lighter framed shooters stay in the scope and on target thru trigger pull and recoil so point of impact is observed. Furthermore, there is noted animal behavior related to muzzle devices that I subscribe to as well. Brenton USA is fully capable of doing a well thought out and engineered muzzle device so I hope they do it in the future and I get to try it.
All of Brenton USA's rifle models are fixed stock models. My particular desire, not because I don't like a fixed stock (Magpul's MOE Fixed Stock is excellent) but specifically because ARHunters promotes/encourages so many youth hunters, first-timers, females, and Vet shooters to Hunt with an AR. I would like to see an adjustable stock option with one of their models- even if they are using a Rifle Buffer Tube, there are stocks that can be adjusted for smaller frame shooters or passed to a smaller shooter and picked back up by the bigger shooter. An example of this is the video of my 7yr old shooting this rifle… it is right at her max pull and still, see thru the scope if we could have adjusted it down a little it would have been perfect. This also would fully support Brenton USA's specific "Hunter Spec" design strategies. My 7yr old daughter was still able to mount this rifle and score a hit on a 1gal water jug at 125yds for the very first time on this hunting sized caliber.
Every detail of the upper and the lower is well thought out, improved upon or enhanced where it matters, and it stands out as key to what makes this an actual dedicated premium AR Hunting Rifle. You want to be in the woods the moment this rifle is in your hands.
Overall, some of the other included and noted enhancements that come with your Brenton USA premium AR Hunting Rifle: Ambi-Selector, "HunterSize" Rear Take Down Pin, "HunterSize" Bolt Catch, "HunterSize" Mag Release, Bi-Pod/Tri-Pod/Sling Mounts, Hogue Hunter Grip, and a nice soft carry case. To me, their "HunterSize" designs meant I could easily use a gloved hand to operate those enhanced items.
As I mentioned, these enhancements are noted, appreciated, and I know the details of what makes them hard for other builders to do as Brenton USA is doing them. Every bit as advertised – this is a premium AR Hunting Rifle out of the box, and I have enjoyed my extended time with this rifle.
Yours will come with a Forever Warranty, a RealFeel Guarantee, and the Promise it will shoot SubMOA
Brenton USA Premium AR Hunting Rifle Field Report
My team at ARHunters had the opportunity to truly test this rifle's design, function, and capabilities. My brother on a holiday trip to in-laws in Texas was able to stalk a free-range Axis Deer and get approximately a 300yd shot on a beautiful animal. Next-Day his 17yr old daughter, my niece was able to get a larger Axis Deer, and both came home with meat as a reward. I then picked up the rifle and while we just could not get the appropriate schedule worked out for an Elk Hunt – the real intent of reviewing this caliber… I did get the chance to test this rifle in the brutal conditions of an NM Public Lands Barbary Sheep Hunt and took a nice Ewe at about 350yds with a neck shot right behind the ears – a testament to its accuracy and consistency.
The trigger is smooth as warm butter under your finger; the weight is just right, all the design enhancements lend credit to purposeful and meaningful uses in the field, the match-grade barrel is there for the job if you get it the work it needs. Overall this is a true AR Hunting Rifle, and a design I can endorse and much enjoyed.
Brenton USA is doing it right. This is a specialty designed premium AR Hunting Rifle that you immediately understand from the moment you touch it. For that, I give them credit for all the many many hours of planning, dreaming, testing, and finally bringing to reality. The smallest details all have the right kind of attention that matters in a rifle born from man's need to hunt and meet success to feed himself and loved ones.
Thank you to Brenton USA for the opportunity to truly allow me the extended time to test, evaluate, and lug this rifle around 100s of miles these passed multiple months.
About JJ Sutton, C.P.S., C.M.A.S. :
A Native Colorado resident & lifetime Hunter. JJ served 7yrs in the US Army during the 90s and logged 12 months downrange during hostilities in the Balkins. Mostly work / some play he has traveled/visited 20+ countries. He owned a highly regarded Private Security Firm for more than 15yrs., as a Certified Protection Specialist & Certified Master Anti-Terrorism Specialist, he worked Int'l Celebrities and personalities related to his business throughout Colorado & Caribbean. He has consulted & worked for private security interests during the 2002 Winter Olympics, later as a Presidential Security Detail Member with the President & First Family of Haiti. His skills and interests also include Firearms Training, Manufacturing & Consulting for custom design & builds of AR15s & AR10s. He now is an Industry Contributor, Consultant, Certified Range Master, Seasonal Hunting Guide and His current pet project includes promoting the Modern Sporting Rifle like it truly is intended to be with ARHunters: YouTube / Facebook (please "Like" AND Follow!).