Disclosure: Some of the links below are affiliate links, meaning at no additional cost to you, Ammoland will earn a commission if you click through and make a purchase.
U.S.A. –-(Ammoland.com)- The year is 1982. E.T. is in theaters, Jane Fonda's Workout Book is a national bestseller, and "Eye of the Tiger" is playing on every boombox. Spirits were high, and American ingenuity was at its peak. Economically, the US is still recovering from troubles of the late 70s, but culturally, the US is in a golden age. Americans were bombarded with a slew of great music, movies, and technology that would come to shape the nation by the end of the Cold War.
Even with the sun setting on the USSR, NATO countries were in a fervor, developing firearms that would become iconic for the decade. For example, Barrett Firearms Manufacturing released their M82 Semi-Automatic .50BMG Anti-Material Rifle, though it wouldn't see widespread use until the end of the decade. At the same time, Accuracy International released their esteemed Arctic Warfare precision rifle, which was quickly adopted by sniper teams worldwide.
But many would say that the most important work came from a small, unassuming workshop in Deutsch Wagram, Austria, where Glock KG completed development of the Glock 17 handgun.
The Glock 17 wasn't just influential—it set the pace for the next 40 years of handgun development. Nowadays, Glocks are among the most popular firearms in the world, issued to both military and police en masse. Everyday Americans trust Glocks for personal protection, and the Glock 34 is topping many of our competitive shooting leagues. Even though they didn't invent the polymer-framed, striker-fired 9mm (HK did with the VP70), Glock made it the first choice of countless shooters around the world.
As you can imagine, with such popularity, the Glock aftermarket completely eclipses any other handgun brand. You can go to any gun range in America and find a Glock that has been completely tricked out unlike any other. That's one of the reasons Glock remains so successful: any Glock can be elevated by the massive array of available parts. There are parts for concealed carry, parts for duty carry, parts for hunting, parts for fishing (for real), and parts for competition. With so much variety, where does one even begin?
Right here, actually! Primary Arms is now a premier supplier of Glock products and accessories, delivering all the best brands but at the value you've come to expect from our name. No matter what parts you're looking for, we strive to give you a great value, so you can get the most from your budget.
Building your Glock from the ground up is easy, and there are a ton of ways to personalize the parts for maximum style. But what does it take to move from bone stock to next-gen carry gun? Follow along as we build out a Glock 19 for everyday carry. We'll be calling our all the products and areas to focus on while you plan out a Glock of your own.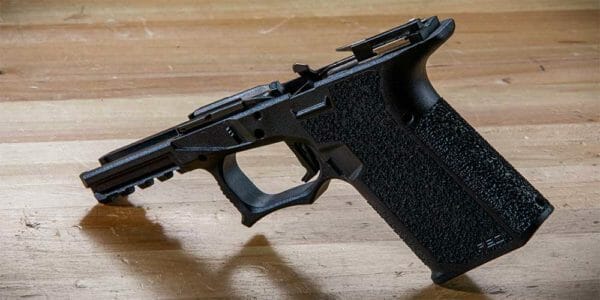 We start at the heart of it, of course! If you're looking for the best shooting experience possible, your frame comes first. Did you know that you have options beyond a Glock original frame?
Nowadays, you have several manufacturers to choose from, and they all have their own designs. The most popular aftermarket Glock frame is the Polymer80. If you know anything about 80% AR15 lowers, Polymer80 started as an 80% option for Glock frames, but they've released the PFS9 and PFC9 as a serialized alternative. Polymer80 frames incorporate many of the ergonomic features unavailable on factory Glock frames, such as aggressive grip texturing, undercut trigger guards, full beavertails, and textured thumb ledges. These upgrades help you get the best purchase on the pistol so you can stay on target.
Peek into any forum or review blog, and you'll hear some strong debate about Glock triggers. No matter your opinion, Glock's factory triggers are safe, consistent, and dependable. That said, we've come a long way since 1982, and there's plenty of amazing aftermarket triggers that are both reliable and precise.
For our EDC, we chose a CMC Gen 3 Flat Trigger, but there are numerous brands with equally impressive offerings. Apex Tactical, Overwatch Precision, Zev, CMC Triggers, and Agency Arms are just a few of the most popular names in Glock aftermarket triggers (and they're all available from us!) You may also consider an aftermarket connector, as it will help reduce the weight of the trigger pull without compromising safety. For a carry gun, our CMC trigger's provided connector works great, but a race gun might favor something lighter, such as Zev Technologies' PRO Trigger Connector.
FINISHING YOUR FRAME
After the trigger, the frame needs additional small parts. With so many pins and springs, you may feel a bit intimidated by the minutia. The good news? Glock's OEM small parts are tough as nails. You can buy most of the Glock pins, blocks, and springs direct for minimal expense, and you know that they'll have the best fit with aftermarket components. If you have an aftermarket frame, it may have a dedicated small parts kit, which will provide an even better match.
Most shooters will upgrade their Glock's magazine release and slide lock, as they can feel small in bigger hands. If you want greater accessibility, you can pick up some extended options from Ghost Inc Tactical, TangoDown, and Agency Arms. These upgraded controls will ensure you have the fastest reloads possible while maintaining all the reliability of Glock factory parts. Our Glock 19 is running a Vickers Tactical slide stop, which is one of the hotter picks right now.
Of course, if you want a quick reload, you'll also need a magwell. There are magwells for both competition and carry, ranging in different sizes and weights. With our Polymer80 frame, we chose a matching Polymer80 magwell, but Taran Tactical (think John Wick), Zev, and even Magpul make compelling options for the OEM frame.
What the frame is to ergonomics, the slide is to reliability and accuracy. But who says reliable and accurate must be plain? The real flair of a customized Glock comes with a beautiful slide, which may be cut for front serrations, lightening cuts, or optics mounts. If you've ever heard of a Roland Special, you know exactly what I'm talking about.
The trick is finding a slide configuration that is both reliable and accurate. With the factory Glock slide, you get guaranteed functionality, but many shooters are looking for optimized performance. Fortunately, there are drop-in aftermarket slides that bring in custom-grade features at a compelling value. Brands like TRUE Precision, Grey Ghost Precision, and KAB Defense are known for their impeccable drop-in slides, which are every bit as reliable as Glock OEM.
Did you know that Primary Arms also has exclusive slides for the Glock 19? Our TacFire slides put practicality and reliability first, which is perfect for a carry gun like our EDC 19.
SLIDE PARTS AND STRIKER ASSEMBLY
After selecting a slide, you will need to finish it with a striker assembly and other small parts. In this case, you can choose between Glock OEM or aftermarket manufacturers. Many aftermarket parts utilize different materials to refine the performance of your pistol, so these options are especially popular on target and competition pistols, where fine-tuning is critical for speed.
Once again, Glock OEM remains a trustworthy standard. Glock's parts are built with exacting specifications, and their success is proven through decades of testing. For an EDC, you cannot go wrong with OEM parts.
One of the most important parts of any Glock slide assembly is the barrel. A match barrel can cut group sizes in half, and threaded options allow for the use of suppressors and compensators. When budgeting for a new Glock slide, the barrel is one of the most important components and deserves that extra sugar—especially if it's a competition or target gun. We have 8 different barrel manufacturers on primaryarms.com already, with even more on the horizon. These brands have been selected from the most popular available on the market today, including Storm Lake, TRUE Precision, and many of the premier brands previously named. Our Glock 19 will be running with a CMC Triggers Threaded Glock 19 Barrel, which provided excellent results for us in the past.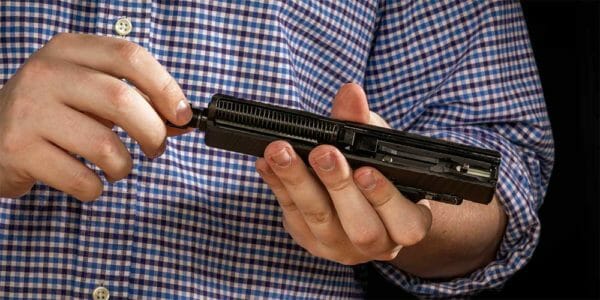 RECOIL ASSEMBLY
Depending on the intended purpose of your Glock, you may also want to upgrade the recoil spring and guide rod. You can increase or decrease the spring weight to better match the kind of ammunition you'll run, taming the slide reciprocation speed for optimum performance. Compensated pistols usually require lighter springs to make up for the reduced recoil. Similarly, duty guns that use hotter ammo may benefit from a heavy recoil spring, which will slow down the shock of high-pressure cartridges.
You can also choose between captured guide rods and uncaptured, which determines if your spring is fixed within the guide rod assembly or easily removable. For our EDC, we opted for the standard Glock polymer OEM captured guide rod. Not only will this offer a great balance of spring weight for versatility with ammunition, but its polymer guide rod will reduce weight. You can also check out stainless steel guide rod options, such as those from Rival Arms, which are more durable and add weight towards the muzzle, reducing perceivable recoil.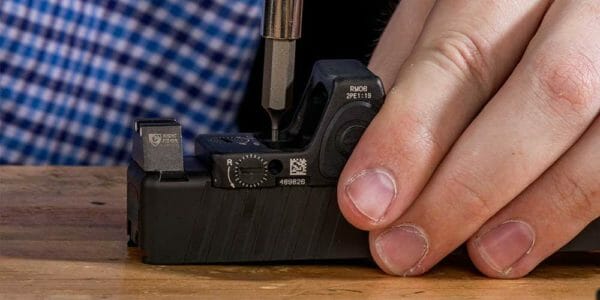 SIGHTS AND OPTICS
Finally, you will want to add some sights. With many of the aftermarket slides, you'll have the option of attaching a Trijicon RMR or other red dot optic. Pistol-mounted reflex sights are quickly becoming a staple in the shooting community, as it comes with many benefits over traditional sights. The most significant benefit is the ability to focus on the target instead of the front sight, improving your target identification, awareness, and tracking.
But that doesn't mean you should abandon traditional sights. With a properly cut slide, you can mount suppressor-height sights to co-witness with your red dot. This means you'll always have a backup option in case the battery runs out. It's the best of both worlds!
An RMR can be installed without any special tools, but you'll want a sight pusher for the backup sights. While a gunsmith can do this for a low cost, we also stock sight pusher tools, so you can always adjust and change sights for yourself.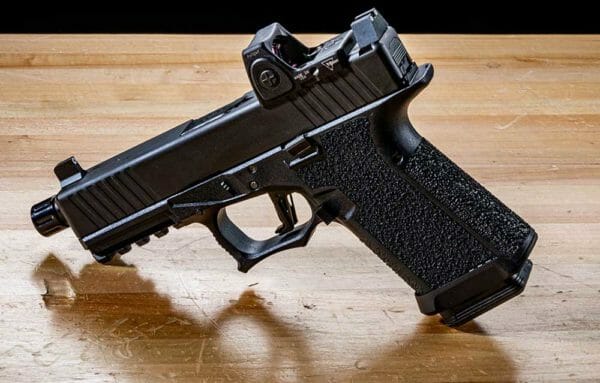 THE EXTRAS
Now that you have a completed slide and frame, all that's left is the accoutrement. Magazines and accessories are crucial in making your ideal Glock run like a dream. We carry several different Glock magazines for every model—and extended base pads to help you get better control and capacity from your factory mags. This EDC Glock features Magpul's proven 15-round Glock mags, but a competition pistol may utilize a Taran Tactical extended base. Your choice all depends on application.
As previously mentioned, many shooters add a compensator to reduce recoil and cut down their split times. Especially when used with slower rounds, a compensator can make a meaningful difference in your ability to stay on target through rapid fire. Just be aware that you may need to change your recoil spring weight for the reduced impulse.
If you're building a duty gun or carry gun, you'll also want to check out our flashlight options. Since most spooky stuff goes bang in the night, a flashlight is an important part of any defensive handgun. We carry a full product offering from Surefire, Inforce, and Streamlight, which are among the top names in the industry.
Oh, and don't forget your holster! We've got many options for both concealed and open carry, so you can find a match for any setup.
WRAPPING UP
That's all it takes. You now know everything you need to take the plunge into building or upgrading your own personal Glock. We're incredibly excited for all these new products, and we hope to be your first choice for all your Glock needs. Expect to see plenty of Glock content coming in the next few weeks, along with some deep sales to help get your next build started!
Oh. And the Glock 19 we've been showing off? That's just one of many special pieces that will be given away over the next couple months. But if you think this one was cool, just keep your eyes peeled. We've got way more from Glock on the horizon.