BAYONNE, NJ –-(Ammoland.com)- Henry Repeating Arms, the leading lever action manufacturer in the United States, is resurrecting a firearm that has not been produced by another major manufacturer since 2002 with the release of their new Henry Garden Gun Smoothbore .22. Built on Henry's Classic Lever Action .22 platform, which ticked over the 1,000,000 units sold mark in late 2017, this .22 caliber shotgun is purpose-built for close-range pest control using .22 LR shotshell cartridges.
"This may be a niche product, but it fills that niche particularly well," says Henry Repeating Arms president and owner, Anthony Imperato. He continues, "For the farmer or the gardener, it's something convenient to keep closet close at-hand to dispatch pests without using a level of firepower that could cause even more property damage than the pests themselves."
The use of .22 LR shotshells are favored for tight quarters or enclosed spaces due to their quieter report, negligible potential for harmful ricochet, and an impact that is unlikely to penetrate walls and roofs.
The 18.5" round blued steel barrel of the Henry Garden Gun is void of any rifling to keep a tighter shot pattern when compared to shooting the same cartridge from a rifled barrel, which extends the effective range. The firearm also features a 15-round tubular magazine and ash wood furniture finished with a black stain to differentiate it from the otherwise very similar Henry Classic Lever Action .22.
Henry firearms can only be purchased through a licensed firearms dealer. For more information about Henry Repeating Arms and its products visit henryusa.com or call 866-200-2354.
---
About Henry Repeating Arms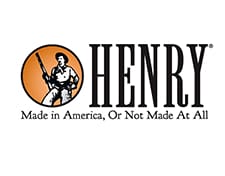 Henry Repeating Arms is one of the leading rifle and shotgun manufacturers in the United States and a world leader in the lever action category. The company motto is "Made in America, or not made at all" and its firearms come with a lifetime guarantee backed by award-winning customer service. The company is also known for its charitable endeavors under its Guns For Great Causes program, which focuses on sick children, both individual cases and children's hospitals, veteran and wounded veteran organizations, Second Amendment and wildlife conservation organizations. The company currently employs 535 people and has 250,000 square-feet of manufacturing space in its Rice Lake, Wisconsin and Bayonne, New Jersey facilities. The company is named in honor of Benjamin Tyler Henry who invented and patented the Henry rifle in 1860 – the first repeating rifle, the lever action rifle, which is America's unique contribution to international firearms design and is one of the most legendary, respected and sought after rifles in the history of firearms. Visit Henry Repeating Arms online at www.HenryUSA.com, on Facebook at www.Facebook.com/HenryRepeating, and on Instagram @Henry_Rifles.