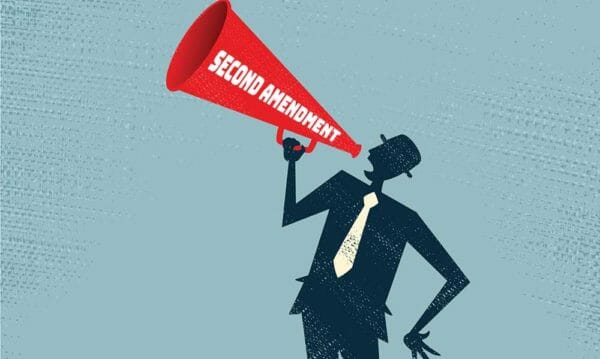 United States – -(AmmoLand.com)- One reason legislation will fly in under the radar is because it is not flashy. There is no catchy title, and it often just gets filed. There may not be many cosponsors – if any. But some of these bills could make a huge difference. One such bill is HR 5301, introduced by Representative Kevin Hern (R-OK).
Hern did not even issue a press release with this legislation. The text takes two pages, and that is arguably due to the formatting on the first page. There's no title. All it says is, "To amend title 18, United States Code, to permit certain individuals complying with State law to possess firearms."
So, what is this bill about? All it does is provide a huge boost to those who exercise their Second Amendment rights in the 16 states that have constitutional carry through an amendment to the Gun-Free School Zones Act. What is that boost? It modifies the law to reflect the reality that in those constitutional carry states, there is no need to have a concealed carry permit.
The problem, when the Gun-Free School Zones Act passed, it didn't take into account constitutional carry.
The current law, found at 18 USC 922(q)(2), outlaws carrying a firearm unless "the individual possessing the firearm is licensed to do so by the State in which the school zone is located or a political subdivision of the State, and the law of the State or political subdivision requires that, before an individual obtains such a license, the law enforcement authorities of the State or political subdivision verify that the individual is qualified under law to receive the license."
So, in those 16 states, it would just take an anti-Second Amendment extremist in a U.S. Attorney's office to decide to prosecute a gun owner who was not doing anything wrong – all on that technicality. That is not a good situation at all.
Hern's legislation changes the convoluted language of the current law to something much simpler, saying that now, the exception would apply to anyone "in compliance with the law of the State and political subdivision in which the school zone is located."
This removes the jeopardy attached to those who are within state law in the constitutional carry states. Now, if you are in compliance with state and local law, you are no longer at risk from the Gun-Free School Zones Act if you exercise your rights.
One thing Second Amendment supporters should think about: A bill like this can often be slipped into a bigger piece of legislation, like the annual appropriations legislation, especially in the conference committee where the House and Senate resolve their differences.
Loyal AmmoLand readers should get in touch with their Representative and Senators, and politely urge them to support HR 5301, to improve the situation vis-à-vis the Gun-Free School Zones Act in the constitutional carry states. They should also take the time to thank Representative Hern for this good piece of legislation. Carrying in accordance with local and state laws should not place someone in jeopardy of losing their rights due to an anti-Second Amendment federal prosecutor.
---
About Harold Hutchison
Writer Harold Hutchison has more than a dozen years of experience covering military affairs, international events, U.S. politics and Second Amendment issues. Harold was consulting senior editor at Soldier of Fortune magazine and is the author of the novel Strike Group Reagan. He has also written for the Daily Caller, National Review, Patriot Post, Strategypage.com, and other national websites.