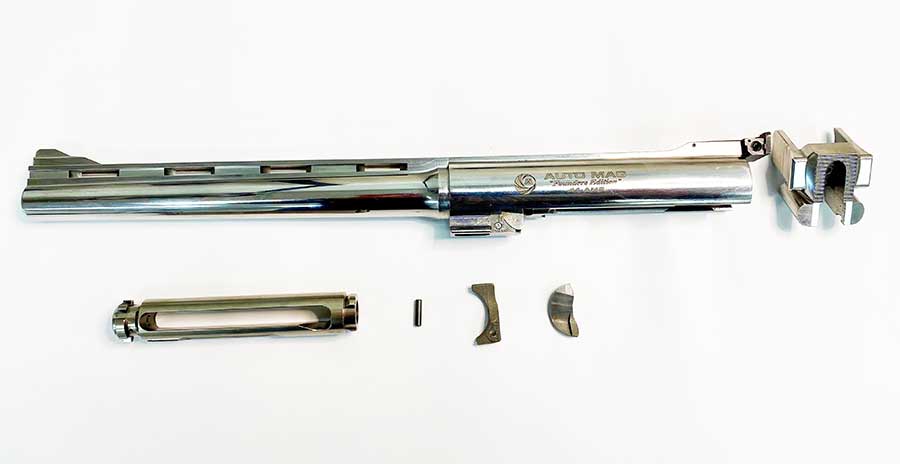 Loris, SC -(AmmoLand.com)- Back from the dead, the famous Automag continues to make progress towards its triumphant return. The big-bore blaster made quite a splash when it arrived in the early 1970s, being the first semi-automatic handgun to contain the power of a .44 Magnum round. (Albeit in the form of the .44 AMP cartridge.)Unfortunately, this never translated into commercial success and the original Pasadena factory went bankrupt in 1973.
After this, the gun was sold under various names, but finding components as always been a bit difficult. This is why the latest news from Auto Mag Ltd. of Loris, SC is so important. In a few weeks, brand new production barreled upper receiver kits and magazines will be available for purchase. Full details below from Auto Mag Ltd's latest press announcement.
Our vendor continues to make great progress on the Auto Mag Frame castings even with the issues that COVID-19 is causing to their workforce and supply chain. We anticipate receiving our next batch of test castings prior to the end of this month for review. In the interim; while we wait on the frames, our Loris SC plant is starting to produce replacement magazines and .44AMP Upper Replacement Kits with an expected sale date of 2 weeks. Please sign-up for the products waitlist to receive advanced notification of their sale. Note: If you had previously signed up for the "Uppers" waitlist, we ask that you sign-up again. Due to technical issues, we have inadvertently lost this information. Also, please help us spread the word to others that would be interested in these items.
---
About Auto Mag LTD, Corp.:
Auto Mag LTD, Corp., is a privately-owned firearms manufacturing company based in South Carolina focused on reviving the iconic semi-auto handgun using only the highest quality materials and latest firearms manufacturing technologies. www.automag.com