U.S.A. – -(Ammoland.com)- "The woman who has accused Joe Biden of a sexual assault in the early 1990s says she's disappointed that CNN anchor Anderson Cooper failed to ask the presumptive Democratic presidential nominee about the allegation when he had the chance — not once, but twice," Fox News reported Saturday. It wasn't until after The Intercept reported on accuser Tara Reade's mother calling CNN's Larry King in 1993, the month her daughter left Biden's office, and NewsBusters retrieved the footage from the Media Research Center archives, that the network finally reluctantly acknowledged what a news organization with integrity would have been first to report.
It's hardly surprising that the same "progressive" media that went all out to torpedo the nomination of Brett Kavanaugh to the Supreme Court would provide cover for the presumptive Democrat presidential candidate. The New York Times, the self-described "newspaper of record" "trashes Biden accuser Tara Reade as a Putin lover in [a] hit piece," Red State documents.
So naturally, we haven't seen condemnation of Biden from others at the forefront of savaging Kavanaugh including the Democratic National Committee, Senate Democrats, and such self-posing "champions of women's rights" as Michelle Obama, Hillary Clinton, and Nancy Pelosi. Time's Up, "established in the wake of the #MeToo movement to help survivors tell their stories," found its excuse to evade the story, and Women's March word weasels put out a tepid tweet that was just enough to cover them against charges of ignoring this completely but allows for plenty of equivocation. They then promptly dropped the subject.
It will also come as a surprise to absolutely no one who's been paying attention that all the major gun-grab groups are solidly in the Biden camp. These are groups that pose as being "pro-women," but discourage female gun ownership by projecting riskier behaviors and violence in criminal households onto the general population.  In other words, as essayist and novelist L. Neil Smith has observed:
"Make no mistake: you victim disarmament types are sick, sick people, in the words of T.D. Melrose, who'd rather see a woman raped in an alley and strangled with her own pantyhose than see her with a gun in her hand."
So we have Gun-Grabby Gabby Giffords tweeting:
"It takes great courage to speak up in the face of threat and intimidation. You are not alone, Dr. Christine Blasey Ford. We're with you. #BelieveSurvivors #BelieveWomen"
As for Tara Reade, a woman and a survivor, we hear crickets. Instead, we have a full-throated endorsement of Joe Biden.
Likewise, we have the Brady Campaign's female president, Kris Brown:
"On behalf of @bradybuzz, I am so proud to endorse @JoeBiden for President. There is no other candidate in this race with his record and commitment to preventing gun violence in all of its forms. #TeamJoe #GunReformNow"
Likewise, John Feinblatt of Everytown for Gun Safety, who brags about his group's role in "crafting the Violence Against Women Act," and Shannon Watts of Moms Demand Action have come out strong for Biden while ignoring the alleged violence against Tara Reade. (I'd show Watts' tweet, but her people have blocked me from viewing her feed.)
It's curious how everyone mentioned, from the media to politicians, to activists, to attention-seeking actresses like Alyssa "Living Proof that a Child Could Do Her Job" Milano, all represent themselves as being attack dogs for women's rights, yet when it comes time to demonstrate the consistency of principle, they show all they're really about is power and control.
It's not so much cognitive dissonance as it is a cynical manipulation of their useful idiots.
Here's the thing: Biden, until proven guilty beyond a reasonable doubt, must be presumed innocent. Reade could be falsely accusing him. But his is the side that promotes guilty until proven innocent, from sexual assault accusations by women to "red flag laws."  Ours is the side that demands due process. We also demand consistency in principles. The utter lack of it on display is what the hypocritical gun-grabbers are being condemned here for.
CNN 'Larry King' episode featuring Biden accuser's mother disappears from Google Play catalog
You have to wonder how many women for disarmament will finally wake up and realize they're being used, that is, abused by apparatchiks. You have to wonder how many of the indoctrinated are capable of opening their minds enough to notice the differences between what they have allowed themselves to become and the free and confident armed women who secure and trusting men cherish and admire.
Also see:
---
About David Codrea: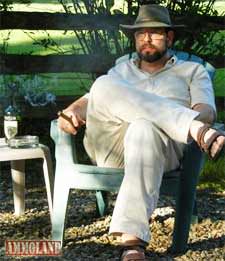 David Codrea is the winner of multiple journalist awards for investigating/defending the RKBA and a long-time gun owner rights advocate who defiantly challenges the folly of citizen disarmament. He blogs at "The War on Guns: Notes from the Resistance," is a regularly featured contributor to Firearms News, and posts on Twitter: @dcodrea and Facebook.