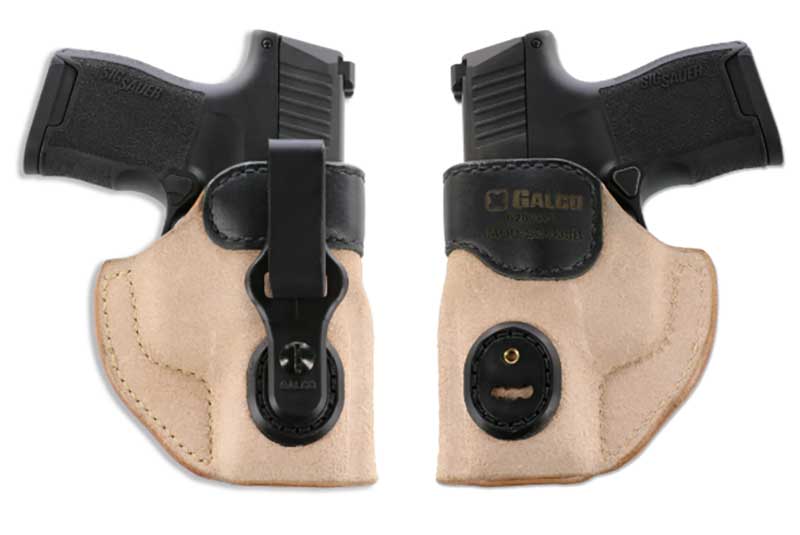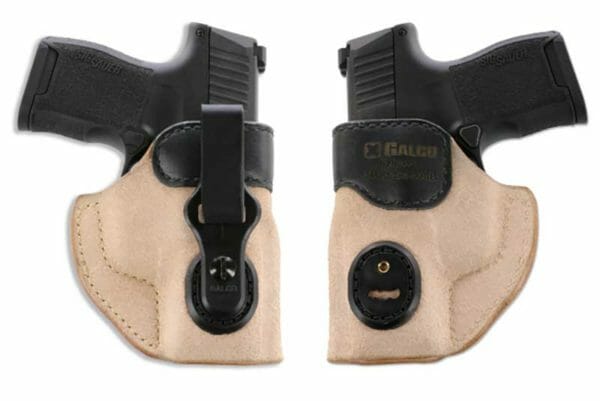 PHOENIX, AZ – -(AmmoLand.com)- Galco is excited to introduce the Scout 3.0 tuckable inside the waistband holster for the SIG-Sauer P365, one of today's most popular modern carry pistols! The highly versatile Scout 3.0 merges Galco's historic quality, comfort, and high performance as an option for daily CCW needs.
The Scout 3.0's open top and full firing grip accessibility combine for a fast and easy draw – critically important in fast-moving self-defense situations. The reinforced holster mouth provides a safe and simple return to the holster after action.
The Scout is constructed with the rough side of the leather out. This construction method provides additional stability in the waistband, as well as a smooth leather holster pocket for a faster, slicker feel on the draw.
The Scout 3.0's versatility comes from its adjustability for cant and angle. Do you like to carry in the currently-hot appendix position? Adjust the belt clip to a neutral (vertical) cant. Prefer a more traditional strongside behind-the-hip position? Just angle the clip to accommodate. Like a crossdraw carry? Move the clip the other direction!
The ambidextrous Scout 3.0 is supplied with two types of interchangeable tuckable clips. The first is the UniClip™, designed to go over the belt, but which also works well without a belt. The second is the Ultimate Stealth clip with hook, which fits on the trouser waistband, under or behind a belt with just the clip showing, for the ultimate in stealthy concealment!
Available in natural finish with black mouth band, the Scout's MSRP is $89.
---
About Galco
Galco International, LTD is the designer and manufacturer of the Galco holster brand, the premier American-made line of superb-quality holsters, belts and accessories. Encompassing law enforcement, military, defensive and sporting use, the Galco brand utilizes leather, nylon, injection-molded plastic and Kydex® to meet the demands of today's consumers. The award-winning Matrix™ line of holsters and accessories, women's holster handbags, tactical slings and hunting accessories round out the line. All Galco products are proudly made in the USA since 1969.
Disclosure: Some of the links below are affiliate links, meaning at no additional cost to you, Ammoland will earn a commission if you click through and make a purchase.