U.S.A. –-(AmmoLand.com)- We all have that one knife that is hard for us to sharpen, don't we? I know I do. I have a little pocket knife that a vendor used to always give me that is the perfect size to trim my fingernails. In fact, that is the only thing that I use it for. But I never could resharpen them so every time I'd see the salesman I'd hit him up for another knife.
Well, last time I saw him he told me that they had quit giving away those little knives. Wuh-wo! This was a crisis. After 40 yrs. I was finally getting kicked out of the nest and would have to master sharpening one of the little buggers. Luckily Spyderco saved the day. At SHOT the Spyderco marketing guru Joyce Laituri had given me one of their Double Stuff 2 sharpeners.
The Spyderco Double Stuff 2 is a unique sharpening system. As you may have guessed from its name, it is double-sided. One side is a coarse Cubic Boron Nitride (CBN) that to me or you look like a diamond impregnated metal slab. It is coarse and works fast.
The other side is a fine ceramic side for touch-ups and for finely polished edges. And both stones have a rounded edge for sharpening serrated blades. There is also a grove in the ceramic stone to sharpen fish hooks and pointed tools.
So, my big moment was here. Out of 5,690,234 attempts would the Spyderco Double Stuff 2 be one more mark of failure for me or would it sharpen the dastardly little fingernail knife?
Only semi confidently did I open the knife and work it for a few revolutions on the CBN stone. Instead of cutting into the stone, I pushed away, not that it matters. After a minute or two I checked the edge. Wow! It was sharp. I now worked it for a couple of minutes on the fine ceramic side. The ceramic side is super fine. It felt smooth as glass and in just a matter of minutes, my dreaded fingernail clipping knife was as sharp as the Proverbial razor. I then confidently worked on the small blade and had the same results.
I'm sure Joyce will kill me for recommending her sharpener for sharpening fingernail knives! Of course, the Spyderco Double Stuff 2 will work for sharpening all manner of knives. As well and fast as it worked for me on my dreaded fingernail clipping knife I was totally impressed.
The whole thing weighs literally ounces and it comes with a soft split leather carrying case. You can throw it in your day pack so you can touch up your skinning knife while on top of a mountain skinning your elk. Or keep it in your tackle box to touch up your fillet or bait cutting knife or fishing hooks. It is a great little sharpener and compact and lightweight.
The MSRP is $75.00 and as is usual we will close with the specs.
Length: 5.00″
Width: 1.125″
Thickness: 0.25″
Material: CBN, Ceramic
Type: Stone
Brand: Spyderco
Model: Double Stuff 2
Model Number: 303FCBN2
Country of Origin: USA
Product Type: Sharpener
---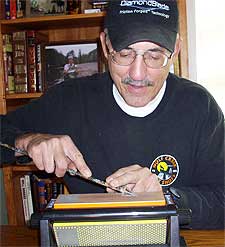 About Tom Claycomb
Tom Claycomb has been an avid hunter/fisherman throughout his life as well as an outdoor writer with outdoor columns in the magazine Hunt Alaska, Bass Pro Shops, Bowhunter.net, and freelances for numerous magazines and newspapers. "To properly skin your animal, you will need a sharp knife. I have an e-article on Amazon Kindle titled Knife Sharpening #ad for $.99 if you're having trouble."