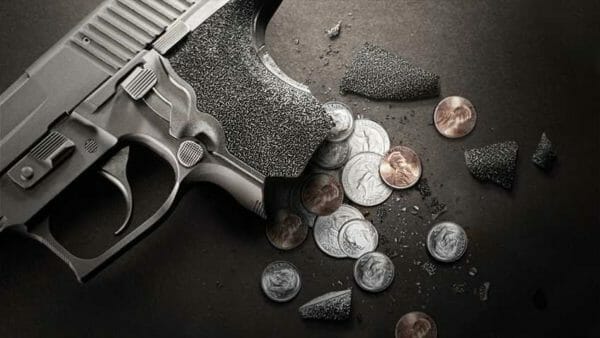 United States – -(AmmoLand.com)- The GoFundMe contretemps over the Canadian truck convoys should be noted by Second Amendment supporters. In fact, it should be seen as a leading indicator of an existential threat to both our ability to advocate for our Second Amendment rights, and to exercise said rights. We ignore this at our peril, and would replicate Wayne LaPierre's mistake with regards to the threat of government abuse in 2013-2014 on a massive scale.
The threat is financial deplatforming, and addressing that threat is something Second Amendment supporters need to insist that lawmakers make a priority at both the federal and state levels. Right now, some states have some half-measures that the big banks won't even notice or care about.
As noted earlier, when a bank has a net worth of a half-trillion dollars, depriving them of a $3.3 billion bond issue isn't much. It's like trying to empty a 55-gallon drum with a shot glass. In other words, they can shrug off the impact and move on.
By comparison, an average Second Amendment supporter, who may chip in about $300 in a given year between a NRA annual membership, a fee for the gun club, and donations to pro-Second Amendment groups. These days, you're not writing a check, you're likely using a credit card or a debit card, often tied to Visa/Mastercard.
The fact is, Andrew Cuomo may have sent letters warning banks and insurance companies to contemplate the "reputational risk" of doing business with "gun promotion organizations," but he wasn't the only coercive influence. The media and anti-Second Amendment extremists also are involved, and there may even be internal revolts inside the banks themselves.
Now investigations by state attorneys general can help the matter some, but AGs come and go, and we need only to look at those career bureaucrats who revolted against Trump during his presidency to see that this is a temporary solution. Again, the banks can shrug off millions in fines.
The answer will likely lie in legislation. Many Second Amendment supporters are rightly wary of government power, but protecting the Second Amendment these days may require some active intervention. State legislatures should pass versions of the Freedom Financing Act, modified to provide some real teeth – like providing a cause for action in civil court for individuals and businesses targeted for financial deplatforming.
Today, it may be a convoy of truckers in Canada being financially deplatformed. But we should be very aware it could come for us. Silicon Valley started its censorship with Alex Jones, but now goes after many others. A pro-Second Amendment Supreme Court's ruling will be empty victories if big banks can veto the Second Amendment.
---
About Harold Hutchison
Writer Harold Hutchison has more than a dozen years of experience covering military affairs, international events, U.S. politics and Second Amendment issues. Harold was consulting senior editor at Soldier of Fortune magazine and is the author of the novel Strike Group Reagan. He has also written for the Daily Caller, National Review, Patriot Post, Strategypage.com, and other national websites.