by Mike Searson,
The Ruger Silent-SR Suppressor is one of the better-built cans & Ruger fans who have threaded barrel 22s should love it as part of their systems of suppressed firearms.
U.S.A. –-(Ammoland.com)- It seems over the past few years that everybody and their brother in the firearms industry are jumping on the NFA bandwagon, particularly with regard to silencers or suppressors.
We saw the tide turn when SIG announced a silencer division a few years ago and American Outdoor Brands (the parent company of Smith & Wesson) completed their purchase of Gemtech last month. However, the real sign was when Ruger announced their foray into the silencer market late last year.
This was a publicly traded old guard member of the firearms industry making their own silencers as opposed to buying out an existing company like Freedom Group had done when this trend started.
The Ruger Silent-SR Suppressor is rated for 22 LR full auto, 22 WMR, 17 HMR and 5.7x28mm pistols and rifles with a standard 1/2 x 28″ thread pattern for compatibility with most threaded rim fire firearms. Ruger claims a decibel reduction of up to 40 dB. While we do not have a $10K to $50K sound meter made by a German engineering firm, we do have a portable sound meter that caps off at about 130 dB. So we felt we could put those numbers to the test.
Ruger ships the Silent SR Silencer with a MOLLE compatible pouch that fits quite nicely on the Ruger Takedown 10/22 back pack and a disassembly tool is included, which also stores in the pouch nicely.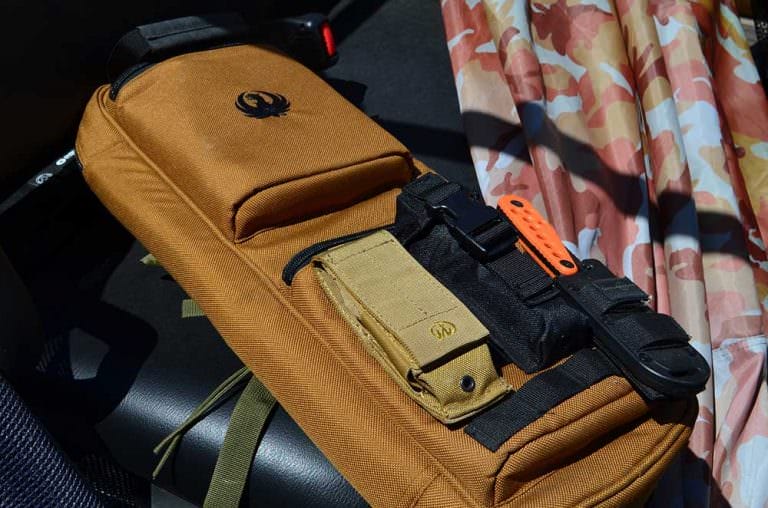 The Ruger Silent-SR Suppressor is composed of a serialized titanium tube, aluminum rear cap, and stainless steel threaded mount, baffles and front cap. The use of three different materials was to maximize strength and minimize weight without sacrificing durability. The stainless steel baffles are why the can is a bit on the heavier side. However, like all Ruger products being "built like tanks," this will undoubtedly ensure the shooter a lifetime of use if maintained properly.
It is easy to disassemble for cleaning and the stainless steel baffles are easy to clean. The serialized tube and muzzle mount are interlocked to prevent accidental disassembly when removing the suppressor from the host firearm. In looking at the baffles closer we determined that they were investment cast as opposed to being machined and each baffle snaps together to seal the stack and keep the dirt and debris from the tube and end caps.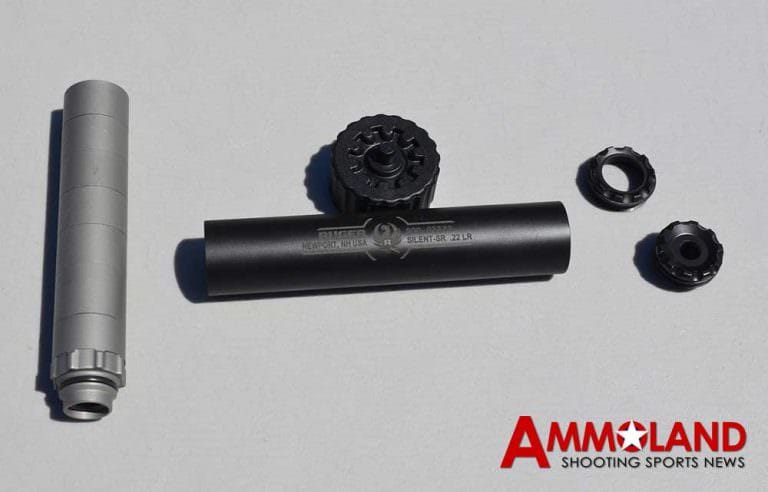 We tried the Ruger Silent-SR Suppressor on a variety of hosts made by Ruger:
The Ruger 10/22 Takedown rifle came in at about 119 Decibels, which as we have pointed out is about as detrimental to the ears as a thunder clap. The Charger metered at 116, which is about as loud as a police siren and the Mk IV 22/45 pistol came in closer to 113 which is somewhere between the sound of a table saw and a jackhammer.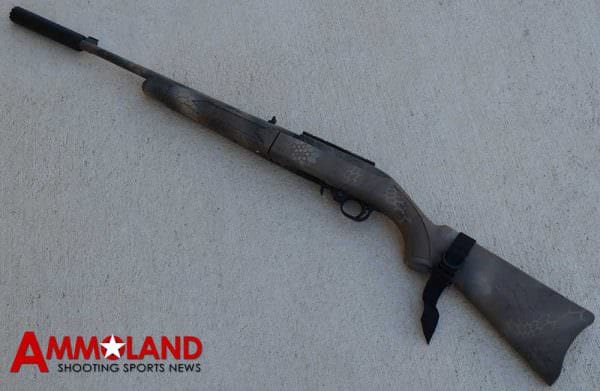 Barrel length and action noise come into play here with regard to sound signature. If you want the quietest rim fire combination possible you need a sealed action like a bolt, lever or single shot rifle with subsonic ammunition and ideally a sub 12" barrel.
The Ruger Silent SR gives an impression of being larger or heavier than other silencers in its class, but in reality the diameter is a mere 1.06" and the weight is just over 6 ounces.
Ruger Silent-SR – The Bad
We have heard reports of people being unable to find these. It may be the one weak point in that most firearms distributors have stayed away from dealing in NFA items and the few that specialize in NFA like Silencershop.com do not sell traditional firearms, which are Ruger's real bread and butter.
I am extremely doubtful that the Hearing Protection Act will pass this year or next, so if these cans are going to be successful the manufacturer and distributors may need to change the way they do business.
The limited distribution may keep prices on the higher end of the scale.
Ruger Silent-SR – The Reality
Sometimes, when you look at a product like the Ruger Silent SR and compare it to what else is out there, you get stuck. When the dimensions are close regarding length and weight, the next thing to look at is compatibility with other calibers or hosts. This suppressor will handle the 22 Magnum and 5.7 rounds as well as 17HMR.
I think it is one of the better-built cans on the market and Ruger fans who have threaded barrel 22s should love it as part of their systems of suppressed firearms.
Hopefully, it is a sign of more things to come, such as integrally suppressed firearms from Ruger.
Ruger Silent-SR Silencer Specs:
Ruger Silent-SR
Manufacturer: Sturm, Ruger & Co.
Caliber: 17 HMR, 22 Long Rifle (full auto rated), 22 WMR
Material/Finish: titanium, stainless steel and aluminum with Cerakote
Mount: 1/2 X 28″
Length: 5.37"
Diameter: 1.06″
Weight: 6.3 ozs.
MSRP: $449
About Mike Searson
Mike Searson's career as a shooter began as a Marine Rifleman at age 17. He has worked in the firearms industry his entire adult life as a Gunsmith, Ballistician, Consultant, Salesman, Author and was first certified to teach firearms safety in 1989.
Mike has written over 2000 articles for a number of magazines, websites and newsletters including Blade, RECOIL, OFF-GRID, Tactical Officer, SWAT, Tactical World, Gun Digest, Examiner.com and the US Concealed Carry Association as well as AmmoLand Shooting Sports News.
Home page: www.mikesearson.com
FB: www.facebook.com/mike.searson
TWITTER: www.twitter.com/mikesearson