Bushnell's  New High Definition Flashlight Produces Square Beam of Light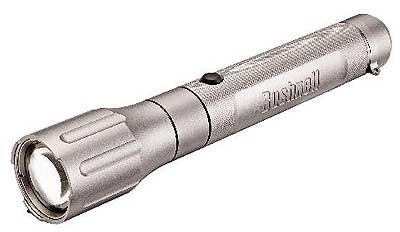 Overland Park, KS – -(AmmoLand.com)- The HD™ Torch from Bushnell shines a new light on flashlight technology. While conventional flashlight produce circular patterns of light that are uneven and irregular, the new HD Torch projects a perfectly square and uniform beam of light. The benefit is that the light beam is consistent from center to edge without dim areas or doughnuts of light.
Without the shadows that are typical with traditional flashlights, the HD Torch makes objects stand out from their background for better definition and clarity. It is a great tool when searching for lost objects because the square beam lets the user search by quadrant or zone for more precision and efficiency. The HD torch can easily light up an entire wall without moving from side to side.
The HD Torch is constructed of aircraft-grade aluminum and produces 165 Lumens of light with its powerful LED. Run time is 1.5 hours and it is powered by two 3-volt lithium batteries. There are two operating modes: high and safety-strobe for emergency use.
For convenience, the HD Torch includes the "Find Me" feature, a glowing "B" rear button that allows serves as a battery life indicator. The flashlight comes with two batteries and a lanyard.
The new HD Torch will be available at Bushnell dealers nationwide. Suggested retail price is $79.99. For more information on Bushnell Products visit www.bushnell.com or call 800-423-3537 for consumer inquiries.
About:
Bushnell Outdoor Products is a global manufacturer and marketer of branded consumer products based in Overland Park, Kansas. Bushnell Outdoor Products sells its products worldwide under the Bushnell®, Tasco®, Serengeti®, Bollé®, Uncle Mike's Law Enforcement®, Stoney Point®, Hoppe's®, Butler Creek®, Kolpin®, Uncle Mike's®, Final Approach®, Simmons® and Millett®  brand names.  For information about any of these brands or products, please contact Bushnell Public Relations at (913) 752-6105.