Brownells Gun Parts Starts 360° Photo Project

Brownells.com – -(AmmoLand.com)- Brownells has taken another step to help make the online shopping experience as close as possible to the in-person experience through the use of 360° photos. The Iowa-based gunsmith tool and accessory supply house has begun including rotating photos for popular products at brownells.com. When you click on the 360° Image icon, the photo makes one full revolution and stops, from there you can rotate it with your mouse to see just the portion you want.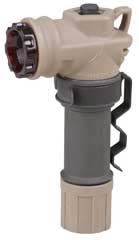 One example is the Pentagon Molle Light, stock number 100-003-071. Check out the 360° Image. Other products that include this new feature are Brownells AR-15 magazines and gas blocks, plus Wilson's 1911 magazines, and more are being added every week.
According to President Pete Brownell, "We realize that it's tough purchasing online when you can't actually hold and touch products. The 360° pictures will make it easier to see if the product is exactly what you want."
The 360° process involves precise camera positioning, several photos of each product and specialized software to combine and animate the images. The project will involve creating 360° images of existing products in the Brownells line and many of the new products that are added every year.
About:
Brownells is the world's largest supplier of firearm parts, gunsmithing tools, equipment and accessories. Stocking more than 30,000 items, the company supplies armorers, gunsmiths, and shooters worldwide. All of their products are backed by a 100% satisfaction, unconditional, lifetime guarantee. To order, or for more information, call 800-741-0015 or visit Brownells.com.