FN SLP named National Rifle Association 'Shotgun of the Year'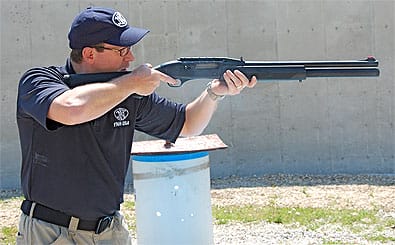 McLean, Va.- -(AmmoLand.com)- FNH USA proudly announces the selection of the FN SLP by the National Rifle Association (NRA) as "Shotgun of the Year."
The modular FN SLP is a hardworking shotgun that ships with two gas pistons – for heavy and light loads — to offer the operator more flexibility and longer life. A variety of shotgun choke tubes and accessory sporting barrels are also available for the SLP.
The reliability of the SLP is well documented along with its nimble cycling speed and light felt recoil. It is ideal for a wide variety of applications in law enforcement, tactical, personal security, and competition.
The NRA judges commented, "Based on the Browning Gold and Winchester Super-X design, the short-stroke, gas-operated semi-automatic SLP has a host of features that drew us to it, including: pistons for both heavy and light loads; a safety than can be reversed for left-handers; an 18" 12-ga barrel with a 3" chamber and compatibility with standard invector choke tubes; an extended magazine tube; a protected front post with a white aiming dot and, in the rear, an adjustable ghost-ring flanked by two white dots and mounted on a Picatinny rail; and a 1" thick ventilated rubber recoil pad.

And when it came to shooting performance, we judged the SLP to . . . (exhibit) commendable slug accuracy, consistent pattern density with buckshot and excellent functional reliability. Handling was also note-worthy, with quick cycling and minimal muzzle rise. . . The FN Self-Loading Police shotgun is simple, reliable and rugged, offering solid performance and a proven design."
About:
FNH USA is the sales and marketing arm of FN Herstal, S.A., Belgium. Its corporate mission is to expand its global leadership position in defense, law enforcement and commercial markets by delivering superior products and the finest in training and logistical support. Visit www.fnhusa.com to view the entire line of FNH USA products and services. FNH USA, P.O. Box 697, McLean, VA, 22101, U.S.A.