Rock Island's June Regional Auction Is Only 5 Weeks Away
Saturday, June 27 & Sunday, June 28
Full day preview Friday, June 26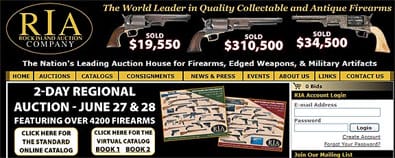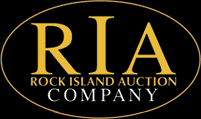 Rock Island Auction Company – -(AmmoLand.com)- Plan to attend this event! It is an exciting time for firearms collectors, our last regional auction had standing room only! Browse over 4200 firearms, then bid on your favorite military, hunting, sporting or antique firearm(s) and accessories! Mark your calendar, this is something that you don't want to miss!
Can't attend? You won't miss out! Here are more options for bidding in this auction.
Submit absentee bids on our website www.rockislandauction.com
How to submit absentee bids
Phone us your bids (800-238-8022)
Fax us your bids download a form and fax it to us (309-797-1655)
Bid Live: For the first time, you can now bid live through artfact.com! If you would like to bid live as the auction happens you can do so using Artfact Live. View our catalog on Artfact.
Note: Artfact charges an additional 3% onto the buyer's premium charge to use their live bidding program.
Quick Highlights of the June Auction:
Over 2100 Lots
Over 4200 Firearms
Over 3200 Antique and Curio/Relic Items
Over 400 Winchesters
Over 450 Colts
Nearly 300 Smith & Wessons
Plus:
Militaria, edged weapons, ammunition, books, firearms parts, bullet molds, and more!
Do you have a question on items in the auction? Send us an email with the question and lot number. [email protected]
Catalogs for this auction are still available! Order your 2-volume set catalog ($35 inc. S&H) call 800-238-8022 or order online www.rockislandauction.com
Or view the entire catalog in full color online!
2 versions of the catalog are available online:
1. The standard online catalog is the version most people use, it also has the most features. Every item is pictured in full color with plenty of options for searching and sorting, zooming photos and much more.
2. The virtual catalog (select book 1 or book 2 on homepage) is just like viewing the print catalog. You can flip the pages one at a time, or enter a page number to jump pages. It also has a search feature allowing you to enter a search word or phrase, plus a zoom feature to zoom the page to a large size.
Do you have an account online? (learn how)
While checking out the online catalog, sign up for a web account with Rock Island Auction Company. Personal website accounts allow customers to:
– Submit absentee & telephone bids
– Know after auction results. If you have a website account we will post your winning bids to your account.
– Stay informed with auction updates
– Create wish lists and place bids
– View prices realized
– View past auction lots won
– Ask an expert a question about a lot
Seeking consignments
Rock Island Auction offers what you're looking for…
1. Simple contract, no hidden fees.
2. We sell what is offered at auction.
3. We know guns – this is our business, our passion, our expertise!
We are currently seeking consignments for our September and December Premiere auctions. For more information on partnering with Rock Island auction to sell your collectables call Patrick Hogan or Judy Voss 800-238-8022
Contact Information
~~~~~~~~~~~~~~~~~~~~~~~~~~~~~~~~~~~~~~~~~~~~~~~~
phone: 800-238-8022
fax: 309-797-1655
email: [email protected]
About:
Rock Island Auction Company has been solely owned and operated by Patrick Hogan. This company was conceived on the idea that both the sellers and buyers should be completely informed and provided a professional venue for a true auction. After working with two other auction companies, Mr. Hogan began Rock Island Auction in 1993. Rock Island Auction Company has grown to be one of the top firearms auction houses in the nation. Under Mr. Hogan's guidance the company has experienced growth each and every year; and he is the first to say it is his staff's hard work and determination that have yielded such results.