2ndamendmentpatriots.org – Recent Meeting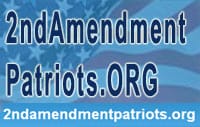 Indiana – -(AmmoLand.com)- For a point of clarity my purpose in pointing out the website of Rachel Grubb, the lady who is running for congress in Indiana District 3 has nothing to do with her personally or Congressman Mark Souder who is the incumbent and has a fine voting record for gun owners.
It's her website that I want to bring attention to.
The words and position that she has on her site about the issues and government in general are significant in the fact that I have not seen or heard those statements made publicly by a candidate or incumbent in many years.
For real conservatives, especially Republicans who need to take a compass reading her website would be a good place to get some bearings. http://www.politicalgateway.com/cand.php?id=1496
We're told that there will be a gathering of people this Tuesday, September 1st at 5:30 PM at the Evansville Four Freedoms Monument downtown on the riverfront to show support for the Obama Health Care Plan. We need our folks to be there, too, so that the media can get our position on this as well. This is just a sample of what we need to be doing.
Now, let me tell you about last nights 2nd Amendment Patriot meeting. It was our first night in our new location at the West Side Sportsman's Club. We out grew our former location that we'd been in for the past 10 and a half years because our meetings had grown to 100+ people coming and we were just too crowded.
The new location is about twice as large, however, last night we had somewhere in the neighborhood of 200 people, one count was 217 and we're scratching our heads about the situation. What a nice problem.
The Club and its board members were absolutely terrific in making our first meeting a success. They had the room all set up and they provided the main meal, which they spent 9 hours slow cooking the meat. Everyone brought side dishes and desserts. What a night it was.
We covered the details on what everyone in the room is expected to do in the next several months leading up to our next state election and why this is our moment of truth. We will continue to build our plans and techniques on how we'll implement the goals we've set to bring the Indiana General Assembly back to a legislature that will respond to our directives.
The people who were there last night have no intention of staying backed against the wall any longer. We don't intend to go around those who interfere and stand in the way of citizens determined to bring our state and our country back to its rightful status of a government of the people and by the people.
We'll not go around them. They will either move to the side or we'll march through them, but we are tried of sidestepping. I could see the determination in the faces of all those who were there including the new visitors and those have been with us from the start. The cheers and applauses confirmed it.
Our guest, Indiana Secretary of Treasurer Richard Mourdock, made an absolutely magnificent presentation of his duties as the fiduciary of Indiana and the detail explanation of events concerning his lone stand against the federal government and its power players who violated federal law in its handling of the Chrysler bankruptcy and the devastating financial effect it had on Indiana directly. Secretary Mourdock will need our support as he proceeds with his efforts to recover what rightly belongs to the citizens of this state.
I hope that our September 26th meeting attendance will exceed last nights. The good folks at the WSSC bought more chairs for the meeting and are going to purchase even more for the next meeting. They have offered to help us in whatever way they can. We thank them.
I want to thank the Patriots that helped at the cookout Saturday morning and we are grateful to Jim and Charlene's generation donation to our group as a result of that event.
We hope that the fires are still burning up in Elkhart and South Bend after our trip up there last weekend and that they are spreading. You folks up there need to keep in close contact with each other and get all the people you can to link up.
All of you can go to our website www.2ndamendmentpatriots.org click on "e-mail list" on the left side of the page and add yourself to our list. Pass this on to anyone you know who is willing to forge ahead on bring liberty back to prominence in our nation.
Also stay connected with Indiana Representative Jackie Walorski in Elkhart who intends to establish regular gatherings of citizens in that area to work together.
We've got some of our members working on putting together a rather ambitious Bill Of Rights Day this year. Doug and Mary Guertin are heading up that project. If any of you out there don't know what day Bill Of Rights Day is I'm not going to tell you. Look it up for yourself and next time you meet one of your legislators in your area ask them if they know. If they don't, shame on 'em.
Remember our next and last Heritage Shoot for this year will be Saturday, September 26th and it will start at 10:00 AM sharp. Don't be late it makes it difficult to try to get the late comers caught up. The shoot is at the West Side Sportsman's Club and it costs $10.00 for all those 18 years old and older. That evening will be our next Patriot meeting.
Thanks to all of you who came to the meeting and has the courage to stay in this for the long haul. Don't miss the next one.
Jim and Margie
2nd Amendment Patriots
STAY UNITED
www.2ndamendmentpatriots.org
About:
The Second Amendment Patriots are a local group of citizens dedicated to preserving the rights, freedoms, and civil liberties of every American by educating the American public of the founding and history of this country and its founding fathers by explaining the role, functions and purpose of the U.S. Government; and by teaching the need and importance of an armed American public, in order to allow for a more prosperous and respectful country consisting of American citizens with a pledge of allegiance to their country and who will at the same time, voice their demand to take back the present overwhelming power of the U.S. Government and deliver it into the hands of the people to which it belongs.