IGO at Council Bluffs Gun Show Today
Iowa Gun Owners will be at the Council Bluffs gun show tonight and tomorrow and we wanted you to know about it.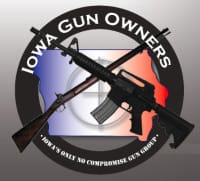 Council Bluffs, IA –-(AmmoLand.com)- The show is being held at the Westfair Amphitheater located at 22984 Highway 6 in Council Bluffs. Iowa Gun Owners will be there Friday night from 5pm to 9pm and Saturday from 9am through 5pm.
This would be a great chance for those of you living in the SW portion of Iowa to come by and meet us. In addition, we will be gathering signatures on our petition to the Iowa State Senate regarding the REAL Right-to-Carry bill that we hope to obtain a vote on next session.
The Majority Leader in the Senate is Senator Mike Gronstal from Council Bluffs. Senator Gronstal will likely block any efforts that we raise to get our bill voted on in the Senate.
That's why its vital to have petitions signed from grassroots voters in his district! At our most recent gun show we obtained over 500 signatures and we'd like to get even more in Council Bluffs.
So if you have time, come out to the gun show tonight or tomorrow. Iowa Gun Owners will not be at the show on Sunday, so come out Friday or Saturday if you can!
Yours for the Right to Keep and Bear Arms, Aaron Dorr
Executive Director
Iowa Gun Owners
You can contact us in the following ways:
Email: [email protected]
Phone: 515/309-7858
Mail: P.O. Box 3585, Des Moines, IA 50323
Website: www.IowaGunOwners.org