North Suburban Police Pistol League – WI-Force Gun Club of the Month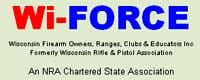 Wisconsin –-(AmmoLand.com)- The North Suburban Police Pistol League Inc, is a not-for-profit, law enforcement shooting club with over 225 law enforcement and civilian members from the Chicagoland and southern Wisconsin area.
The NSPPL is an affiliated club with the National Rifle Association, the Civilian Marksmanship Program, Illinois State Rifle Association, and WI-Force.
Many of the League's members are certified through the National Rifle Association as Rifle & Pistol Coaches, Training Counselors, and Instructors. Through these members, the League also offers NRA Certified Instructor and Range Safety Officer training. They also have a Certified Utah Concealed Firearm Permit Instructor on staff.
Peter J. Kolovos, is the Secretary/Treasurer, and Director of Training for the NSPPL. Pete runs the day to day operation of the League. He has been involved with firearms and competitive shooting since the late 1960's. Pete is a Benefactor Life Member of both the NRA and the ISRA. Pete is a Certified Police Firearms Instructor, a Police Sub-Machinegun instructor, a NRA Level 3 Pistol Coach, a Level 2 Rifle Coach, a Utah CFP Instructor, and an NRA Training Counselor. He has also been a member of the NSPPL Executive Board for the last ten years. Since that time Pete's taken the organization from a mere 30 members and expanded the League and many of it's programs to where it is today! One of the finest shooting clubs in the Midwest.
About:
Wi-FORCE promotes and protects the shooting sports, hunting, and the lawful ownership and use of firearms in Wisconsin. We coordinate match schedules of member clubs, sanction the state championship matches, monitor and recommend legislation, and provide training and educational programs for our members, competitors and Wisconsin shooters. Wi-FORCE supports the interaction and education of all individuals and groups interested in the shooting sports and the natural right of citizens to own arms. Visit: www.wi-force.org