Virginia Citizens Defense League Announces Six New Executive Members In The Fight For Gun Rights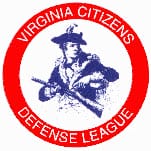 Virginia – -(AmmoLand.com)- VCDL is proud to announce the appointment of six new Executive members!
Executive members are approved by the Board of Directors.
They have shown themselves to be knowledgeable on gun rights issues and tend to be highly motivated in the fight to protect those rights.
Whenever VCDL holds an event in some part of Virginia, you can count on these members to be there to help out:
Here are the new EMs:
Ian Branson
Curtis Stone
David Hicks
Ed Levine
Mark Spruill
Clint Kritzer (EM status becomes effective on 1/25/10)
About:
Virginia Citizens Defense League, Inc. (VCDL). VCDL is an all-volunteer, non-partisan grassroots organization dedicated to defending the human rights of all Virginians. The Right to Keep and Bear Arms is a fundamental human right.