eKiosk 4473 By Coloseum Software Corp. Transforms Firearm Sales Paperwork Into Efficient Business Practice for FFL's
Software enhances speed and accuracy of federally mandated protocol.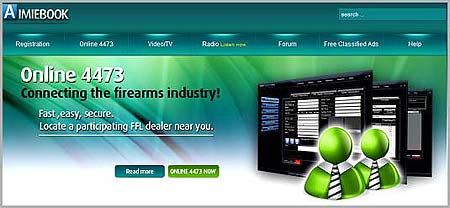 Mansfield, MA –-(AmmoLand.com)- Ushering in a new era of firearms transfer technology, eKiosk by Coloseum Software Corp. enables any Federal Firearms License (FFL) dealer using AIMI eBook Pro to have their customers electronically fill out the required Form 4473 over the Internet using AIMIEBOOK.NET.
Firearms Retailers & Sporting Goods Stores using Aimi eBook Pro applaud the eKiosk system placing internet kiosk computer stations in central locations of their stores. Customers complete their e4473 and return to the counter where the firearms sale is completed.
eKiosk technology reduces paperwork time by 85% and increases accuracy by 99% enabling FFL dealers to manage multiple sales simultaneously.
Developed in response to the Government Paperwork Elimination Act (GPEA Pub. L., Title XVII), and in response to requests from the firearms industry, eKiosk eliminates the hassle of tedious handwritten records while contributing to the annual reduction of over 13 million industry-specific forms. Used in conjunction with Coloseum Software's firearms AIMI eBook Pro, eKiosk transforms the FFL business model.

More Information
For an eKiosk demo or more information about Coloseum Software contact: David Beck at 216.339.7271 or e-mail [email protected]
About Coloseum Software Corp.
The leader of firearms compliance and inventory products, Coloseum Software Corp. was founded in 2001 to fulfill the need for complete records management and inventory control with easy-to-use software. Our goal is to provide this technology in a safe, reliable, and affordable environment. Coloseum Software Corp. develops compliancy software exclusively for the firearms industry, including paperless dealer-to-dealer e-transfers, Acquisition & Disposition software, and more. Visit: www.coloseumsoftware.com or www.aimiebook.net