Second Amendment March – Two More DC Speakers Announced
Bill Hunt & Paul Broun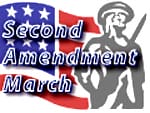 Washington, DC –-(AmmoLand.com)- Representative Paul Broun was elected in July of 2007 to serve the Tenth District of Georgia. Since his arrival in Congress he has been appointed to positions on the House Homeland Security Committee (where he is Vice Ranking Member of Intelligence), the House Committee on Science and Technology (where he is Ranking Member of Investigations and Oversight), and the House Committee on Natural Resources. Paul C. Broun, Jr. grew up in Athens, Georgia where he attended Athens High School and graduated from the University of Georgia in 1967 with a B.S. in Chemistry. In 1971, he received his Medical Doctor degree from the Medical College of Georgia in Augusta. An internship at Good Samaritan Hospital in Portland, Oregon and a residency at University Hospital in Birmingham, Alabama followed.
Paul served in the military as a jet engine mechanic in the U. S. Marine Corps Reserves and later received a commission as a medical officer in the U. S. Navy.
For most of his career, Dr. Broun has practiced general medicine and, in 2002, he went out on his own, establishing a unique practice of full-time house calls. He has enjoyed the freedom of practicing medicine without bureaucratic encumbrances and his patients appreciated the convenience of being seen at home or at work.
Paul's first exposure to politics came at the age of sixteen, when his father won a seat in the Georgia State Senate. Paul Broun Sr. represented the Athens area as a State Senator for 38 years. Later, Paul Jr. himself would become involved politically; first as a volunteer lobbyist for Safari Club International, a pro-hunting and conservation organization, then as a conservative Republican United States Representative.
Bill Hunt
Bill Hunt is currently running for Sheriff of Orange County, California. After serving in the United States Army after high school, Mr. Hunt rose through the ranks of the Orange County Sheriff's Department, obtaining a diverse background over 21 years within the department's divisions including jails, patrol, investigations, training, narcotics, gangs, SWAT, and management. Mr. Hunt strongly believes that the Sheriff should be in the business of protecting people's rights, not restricting them and has been an outspoken advocate for shall issue legislation in the state of California where concealed weapons policies are arbitrarily established by the county sheriff. As Sheriff, Mr. Hunt will issue a concealed weapon to any law abiding resident of the county not prohibited by law from possessing a firearm and is committed to joining with other pro-2nd Amendment sheriff's in California to lobby for shall issue legislation in the state. Bill Hunt has been endorsed by a host of national 2nd Amendment leaders including Sheriff Richard Mack, (Ret), Graham County Az., Sheriff Joe Arpaio, Maricopa County Az., Suzanna Hupp, former Republican member of the Texas House of Representatives, Dr. John Lott, Jr., Author of "More Guns, less Crime", and Dr. Ignatius Piazza, Founder and Director of Front Sight Firearms Training Institute.
About:
The mission of the Second Amendment March is to galvanize the courage and resolve of Americans; to petition our elected officials against establishing anti-gun legislation; and to remind America that the Second Amendment is necessary to maintain our right to self defense. Visit: www.secondamendmentmarch.com