The Blade Show – Mother of All Knife Shows
Article By Rob Haught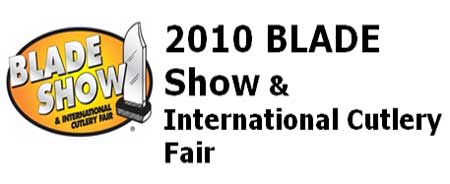 Berryville, AR – -(AmmoLand.com)- For anyone who is even remotely interested in collecting knives, whether they be factory models or custom made, the road to Mecca leads to Atlanta in June. The Blade Show is the mother of all knife shows.
Located in the Cobb Galleria complex in Atlanta, GA, it has become THE place to go to see the world of knives.
Just about everything you could ask for can be found under one roof during the three day expo. If your taste runs towards Case pocket knives or you are a veteran Randall Knife collector there is enough to keep busy. Knife making supplies such as steel, handle materials, power tools and leather working supplies can be found from several vendors.
As a young lad I became interested in collecting knives like many boys and I have continued this passion to this day. Many years ago I moved into the custom world and have had a lot of fun going to shows and meeting the various makers.
Knife makers as a whole seem to be a great group. Friendly and eager to talk about their products, they are willing to share the secrets of the craft with anyone who has the interest to listen and learn. In the last twenty years the popularity of the so called "Tactical Folder" has emerged. Most all of the major knife companies owe their designs to a custom maker. Most of these legends of the knife making world can be found at the Blade Show. Think of it, what other business can the average consumer think of where he can go and speak face to face with the big boys? That's one of the things I like about the Blade Show, the chance to meet the actual maker of the product I'm buying. Over the years I have met many of the makers and they are some of the nicest folks I know. It's worth the eleven or so hour drive to see them and catch up.
One of these is our very own Ryan Wilson of Wilson Tactical. As long as I've known him he has tinkered with knives and accessories. He has now reached a point that he is ready to display his own line of knives at the Blade Show. A sure sign that you have arrived in this industry. Collaborating with such knife making big names such as Chris Reeve Knives, Jason Knight and David Broadwell, Ryan has quickly become well known in the knife world for his innovative designs. About this time along came Para-Cord, growing out of an idea Ryan had for making lanyards and other neat stuff from para cord for his knives.
Para-Cord produces many items made from parachute cord or "550" cord as it's often referred to as. All kinds of neat items including survival bracelets, key lanyards and other gadgets are made by braiding this cord. I use the lanyards on many things from knives to zippers and I confess to really liking the bracelets as well, having had Christine make a couple new variations for me at the show.
One of the nice things about the show is the location. The Waverly Renaissance Hotel is pretty much a self contained entity. With good food and a bar area inside the atrium of the hotel there is no reason to have to leave the premises. Connected to the Mall complex and Convention Center by hallways, you can walk the show then go back to the room to chill out, and go back to the show at your convenience.
If you want a killer steak there is a best kept secret called Ted's Montana Grill that has one of the best steaks I've ever eaten. It was so good we went two nights in a row. On the second night we opted for Bison instead of beefsteak and it was great.
If you are into knives either on the tactical side or the custom art knife side then you need to put Blade on your calendar for 2011.
Rob Haught:
Veteran Law Enforcement Officer
Firearms Trainer for civilian, law enforcement and military
IDPA National Champion
About:
At Wilson Combat we're proud of our position as the acknowledged leader in customer satisfaction and quality products. We work hard to maintain the reputation we've built over almost thirty years, and continue to invest in the human resources, training, capital equipment, research and development to stay on top. We have added new leadership personnel in engineering, manufacturing management, materials, research, design, operations, and business development. One of our goals is to be a little better every single day, and we work hard to meet that goal.