Florida's First Open Carry Event
Florida open carry event to be held at Daytona Beach on July 3rd 2010.
Event kicks off campaign to restore open carry rights in Florida.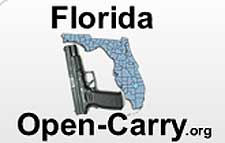 Florida –-(AmmoLand.com)- Florida Open Carry is planning their first "Open Carry Fishing Event" in the Dayton area at Port Orange Dunlawton Causeway Park on Saturday, July 3rd from 9am to 2pm.
"There could not be a more fitting time than Independence Day weekend to celebrate our freedoms as Americans and exercise our right to self defense as intended by the founding fathers of this great nation," says Florida Open Carry founder Sean Caranna.

"We invite all law abiding citizens," adds Mr. Caranna, "regardless if you open carry or not, to join us for a day of fishing on the pier. We hope to show that we are responsible members of our community who want our open carry rights restored in Florida."
Most states require no license to open carry, but Florida is one of only seven states with wide ranging prohibitions on carrying unconcealed handguns, even if properly holstered. This presents a huge problem in the summer heat or while engaged in many outdoor Florida activities.
It's just not practical, or even sometimes possible, to conceal a standard sized handgun in regular summer attire. But in accordance with the current Florida statute 790.25(3)(h), adults may carry an unconcealed handgun, without a license, while lawfully fishing or going directly to and from the fishing area. There are also similar exceptions for hunting, camping, and target shooting.
Florida Open Carry plans to use the Dayton event to kick off its campaign to restore open carry rights in Florida. If successful, this repeal will eliminate the practical and constitutional problems arising from generally restricting law abiding citizens to only licensed and concealed carry in Florida.
About:
Florida Open-Carry.org is a grass roots organization of Florida residents who endeavor to raise awareness in the community of our second amendment rights. Our primary goal is to help educate others about their right to legally open carry and advocate for repeal of the general ban on open carry in Florida. Florida is one of only seven states where open carry is generally illegal. Visit: www.open-carry.com