Sitka's Downpour Series Outerwear Keeps Hunters Dry
Rain is no longer an excuse for leaving the stand early.
NAPA, CA –-(Ammoland.com)- Sitka Gear Inc., has introduced the Downpour Jacket and Pant to offer hardcore whitetail hunters an opportunity to utilize the highest-quality raingear on the market.
The Downpour Series is designed with GORE-TEX PACLITE fabric, which is extremely lightweight, waterproof and breathable.
To keep game-spooking noise to an absolute minimum and to further differentiate the Downpour Series from the rest of the pack both the Jacket and Pant feature a lightly brushed face.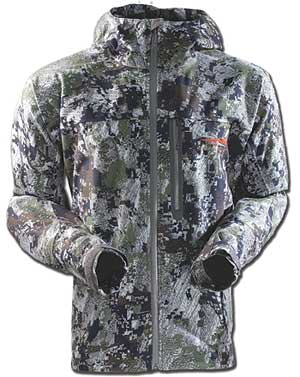 Sitka Gear's top-quality products feature the most scientifically advanced visual concealment pattern ever to hit the market – GORE OPTIFADE Concealment, the first-ever concealment based on the science of animal vision.
The new Big Game/Forest pattern takes into account the distance and extreme angles found while treestand hunting and works to obscure elevated hunters. GORE OPTIFADE Concealment Big Game/Forest incorporates a micro and a macro pattern.
The unique micro-pattern considers the way a deer or other ungulate perceives color, the ratio of positive to negative space and other visual elements to create an effect that allows the hunter to blend with the animal's perception of the environment.
The macro-pattern breaks up the symmetry of the human body so that if a hunter is detected, the animal will not be able to identify the hunter as a predator.
Downpour Jacket
Fully Taped and Laser Cut Seams
Built-in hood
GORE-TEX PACLITE fabric
GORE OPTIFADE Concealment Big Game/Forest pattern
Available in sizes ranging from S – 3XL
Retail Price $249
Downpour Pants
Built-in belt, rear wallet pocke
Full side zips
GORE-TEX PACLITE fabric
GORE OPTIFADE Concealment Big Game/Forrest pattern
Available in sizes ranging from S – 3XL
Retail Price $199
About Sitka Gear, Inc.
Sitka Gear is the leading manufacturer of high-performance hunting apparel that utilizes cutting-edge technology to keep hunters warm, dry and comfortable in any condition. For more information about Sitka visit www.sitkagear.com or call 877.SITKA-MG.
About W.L. Gore & Associates (www.gore-tex.com)
Perhaps best known for its consumer products like GORE-TEX fabric and ELIXIR guitar strings, Gore is a leading manufacturer of thousands of advanced technology products for the electronics, industrial, fabrics and medical markets. The company is headquartered in Newark, Delaware, posts sales of approximately $2.6 billion, and employs 9000 associates at 30 locations throughout the world.