Legacy Sports International Is Now Offering Howa/Hogue & Howa Talon Rifles With Fluted Barrels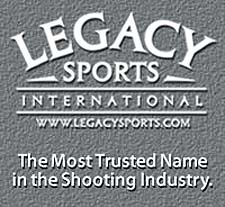 RENO, NV –-(Ammoland.com)- Legacy Sports International, LLC announces the availability of their popular HOWA rifle with fluted barrels.
Fluting increases the surface area of the barrel, which aids in heat dispersion – and ultimately – keeping the barrel cooler during shooting sessions.
The Howa Fluted barrels will be available in six popular calibers: .270 Win. and 30-06 Spfd. in standard blued barrel, .300 Win. Mag. and 7mm Rem. Mag. in blued magnum barrel and .223 Rem. and .308 Win. in heavy barrel.
These Fluted Barreled actions are being pared with the ever-popular Hogue Overmolded Stock, as well as the new Talon thumbhole stock from BLACKHAWK! Industries.
Pricing is set at between $599.00 to $865.00 MSRP. These rifles are available to the shooting press NOW for test and evaluation! See specifications and pricing under separate document, included.
Legacy Sports International, LLC is an importer of firearms and shooting accessories. Bringing in high quality, reliable and affordable products for shooting and hunting enthusiasts is the mission of Legacy Sports' business. With well-respected brands including Howa and Puma rifles, NikkoStirling optics, Escort and Verona shotguns, and the new Citadel brand, Legacy Sports is committed to offer today's shooting sports enthusiast performance on the range and in the field. Legacy's track record proves – without a doubt – that they have consistently provided accurate rifles and shotguns as well as award-winning optics for sportsmen on a budget. This is why Legacy Sports is known as "The Most Trusted Name in the Shooting Industry".
For more information contact: www.legacysports.com