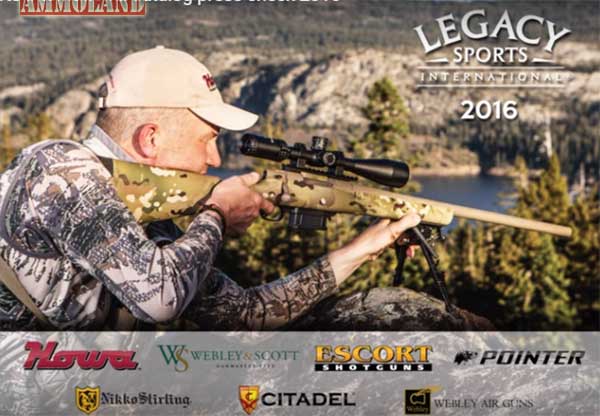 USA –  -(Ammoland.com)- Legacy Sports International, Inc. is pleased to announce the availability of their new, 2016 product catalog.
This catalog is now available on the Legacy Sports website (www.legacysports.com) and below for viewing and downloading, and is also available for hard copy requests to be mailed. Simply follow the prompts on the website to request your hard copy, or call us at: 1-800-553-4229 and ask us to send you a copy.
We are extremely excited about the new products we have added for 2016 to our existing brands, and equally excited about the new brands we have also added.
First, we have expanded our Howa® line of bolt action rifles with new models including the Archangel™, with precision target stock, and the new Scout model that brings to life the dream of Col. Jeff Cooper's all-purpose scout rifle. Add to that, two chamberings that offer a heavy, threaded barrel for those hunters who wish to add muzzle breaks or suppressors to their guns. Then, there's our brand new Multicam Howa with Hogue® stock dipped in Multicam® camo and Cerakote® Flat Dark Earth coating on the barrel and action. The new package version of this rifle also features a bipod, Ammo Boost™ detachable magazine system and Nikko Stirling Targetmaster 4-16×44 scope with rings and one-piece rail. Other new scope packages include a Hogue stock with Nikko Stirling Diamond optic, our new Alpine Mountain rifle package with Nikko Stirling Panamax™ 3-9×40 wide field of view optic, and more!
Our Pointer line of shotguns adds a Deluxe synthetic model to the semi-auto lineup, and a new, synthetic stocked over/under that is available with 28 inch chrome-moly lined barrels, five chokes and a raised, ventilated rib. This shotgun is asl avasilable in a home defense model with 18 inch barrels, rifle-style fiber optic front sight, and upper AND lower Picatinny rails. It also includes five chokes with a chrome-moly carbon steel barrel. New for 2016 is the expansion of our Pointer single shot, break action shotguns that add 20 ga. and .410 gauge youth models thast feature three safeties, a 12.5 inch LOP, 26 inch barrel length and brass bead front sight. These guns are sure to be a hit with anyone just learning to handle a firearm!
New brands for 2016 include the addition of Webley & Scott rifles, with the Empire model available in .270 and .30-06 that brings back beauty and tradition with an Italian walnut stock, jeweled bolt, five round detachable, flush fit, steel magazine and two-stage trigger. Another new product in the Webley & Scott line are the all-new rimfire rifles available in .17 HMR, .22 LR and .22 WMR. Barrels are 19 inches in length and come in standard and bull barrel dimensions. The bull barrel is carbon/Kevlar® wrapped while the standard barrel is carbon steel. Both come with threaded/knurled caps, Picatinny rail, skeletonized triggers and a ten round detachable magazine.
Of course, there's the Nikko Stirling® brand of riflescopes that have long been an integral part of our package rifle options. This year, we are selling these great optics by themselves, as well as with our package Howas. New offerings in the optics line include Panamax™ wide view scopes, Diamond™ Long Range models and several new red dot sights.
Take a minute to view our catalog below or online, or ask for your own personal hard copy! We're sure that you will find many products that will catch your interest!
Legacy Sports International 2016 Firearms Catalog
About:
Legacy Sports International, LLC is an importer of firearms and shooting accessories. Bringing in high quality, reliable and affordable products for shooting and hunting enthusiasts is the mission of Legacy Sports' business. With well-respected brands including Howa and Puma rifles, Nikko Stirling optics, Escort shotguns, and Citadel handguns and shotguns. This is why Legacy Sports is known as "The Most Trusted Name in the Shooting Industry." For more information contact: www.legacysports.com