MasterPiece Arms Introduces the Protector Series Pistols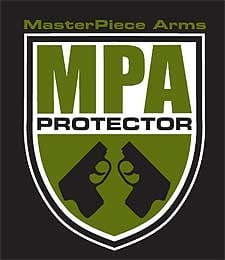 CARROLLTON, GA –-(Ammoland.com)- MasterPiece Arms proudly introduces a brand new addition to its unique and impressive product line, the MPA Protector Series.
As the first MPA series not based on the MAC platform, the Protectors offer brand new advantages such as the ability to conceal and carry for everyday protection.
Offered in two calibers, the MPA32 (32 ACP) and the MPA380 (380 ACP) Protectors both come in all black or with a stainless steel upper slide.
The scalloped design of the slide adds an attractive touch and a better grip when pulling the slide back.
The handle and grip are designed in a way that is comfortable to hold and safer to fire because the shooter has more control of the weapon. The hammer is slightly recessed which enhances the overall safety of the weapon. The Protectors have 6+1 capacity, fixed sights and injection molded black grips. The MPA32 weighs 10.9 oz. and the MPA380 weighs 11.3 oz. Both measure .820" in width, 4.4" in length, 3.150" in height and have a 2.250" barrel.
The MPA32 and MPA380 Protectors have no castings and are fully machined from solid steel. They have machined 4140 receivers and machined 4140 or stainless steel upper slides.
"Our background and experience in manufacturing different types of firearms combined with the recognition that we needed a more "mainstream" product pushed us to develop the Protector Series," says Jimmy Payne of MPA. "Our goal was to build a strong, light weight pistol that was appealing to the eye, practical, easy to conceal but still maintained all of the best features available for this type of pistol."
MasterPiece Arms is proud to offer one of the highest quality, subcompact, double action only pistols on the market while maintaining a very affordable price. MSRP for the MPA32 and MPA380 in black is $322.90. MSRP for both in stainless steel is $345.90.
MasterPiece Arms uses state of the art CNC machining, turning, laser cutting and bending in its manufacturing process. MPA puts more than a year and a half into engineering, testing and re-testing its weapons to provide customers with one of the most enjoyable guns available. With versatile uses such as protection, hunting, tactical or novelty interests, MPA products are one of a kind and backed by a lifetime warranty for original owners. Learn more MasterPiece Arms products at www.masterpiecearms.com,