WI DA Rejects Enforcement of Anti-Gravity Knife Statute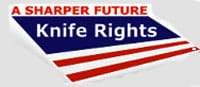 Jackson County, Wisconsin –-(AmmoLand.com)- District Attorney Gerald R. Fox has concluded that last week's Supreme Court decision in McDonald v. Chicago invalidates a number of state statutes regulating firearms and knives.
As a result, Fox has concluded that the states anti-switchblade and anti-gravity knife statute will no longer be enforced by his office.
The following is from the Press Release issued by Fox:
Yesterday, in a resounding victory for all freedom-loving Americans, the United States Supreme Court confirmed that the Second Amendment's protection of our right to keep and bear arms applies everywhere in America, and serves as a rampart against state infringement of this fundamental individual liberty. In its ruling, the Court declared that the right to keep and bear arms is a fundamental right, and that self-defense is at the core of the freedoms protected by the amendment.

This Supreme Court ruling is binding on all states and local governments, and immediately renders some of Wisconsin's current laws unconstitutional. Therefore, in keeping with my oath to uphold and defend the Constitution, I hereby declare that this office will no longer accept law enforcement referrals for violations of the following statutes:

Section 167.31, prohibiting uncased or loaded firearms in vehicles; Section 941.23, prohibiting the carrying of concealed weapons, including firearms; Section 941.235, prohibiting the possession of firearms in public buildings; Section 941.237, prohibiting the possession of firearms in establishments where alcohol may be sold or served; and, Section 941.24, prohibiting the possession of knives that open with a button, or by gravity, or thrust, or movement.
Read the complete Press Release here.
It appears that this is one District Attorney who gets it. Perhaps New York's Cyrus Vance, Jr. will take note.
We won't hold our breath…
Make a Contribution to our fight against the DA's assault on our pocket knives: http://bit.ly/Scvp9
Join or Renew your Knife Rights membership today! http://bit.ly/2QEVMP
Knife Rights on Twitter
Follow Knife Rights on Twitter and receive the latest updates and notices as soon as they occur: http://twitter.com/KnifeRights
About:
Knife Rights has quickly grown to become America's largest grassroots knife owners organization. Invest in a Sharper Future. Become a Knife Rights member and make a contribution to support the fight for your knife rights. Visit www.kniferights.org