EMA Roni Pistol – Carbine Fiscally Responsible & Economical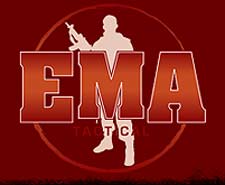 Tullytown, PA –-(Ammoland.com)- Designed for the Special Forces operator, The RONI has found favor with SWAT, Motorcycle, School Resource Officers and Security Details.
Using the RONI, only one weapon is required for both close quarters and mid range engagements.
No more duplicating weapons, ammunition and magazines. The operator is carrying less weight. In utilizing one weapon system, logistics are streamlined, saving time and money by not having to stock replacement parts, magazines, ammunition and gun-smithing for two weapon systems.
Now, one weapon serves multiple applications. Because the RONI uses pistol caliber and not rifle caliber ammunition, there is much less chance of penetration thru walls causing collateral damage. The RONI converts your sidearm from a tertiary weapon into a primary weapon. The RONI is priced much less than a SMG. Training with one weapon system saves time and money and more importantly, allows the operator to develop the singular neuro-muscular coordination needed in high stress situations.
ACCURACY:
RONI Pistol Carbine Conversion allows you to realize the accuracy inherent in the pistol. Targets can be engaged at 50 yards and beyond.
The RONI shoulder stock design provides the stability to significantly improve accuracy and shooting distance. User accuracy is also increased because the sight line and rail height are above the barrel. The weight and design of the RONI significantly reduces recoil and eliminates muzzle jump contributing to increased accuracy.
TRANSFORMATION:
A pistol can be installed in the RONI in 5 seconds. No pistol disassembly or gunsmithing is required for installation in the RONI.
Repeatable zero is maintained when reinserting the pistol into the RONI. The RONI holds the pistol at three points, around the trigger guard, at the tang of the back strap, and at the under barrel rail mount.
Slide operation is controlled by a cocking handle friction fitted to the slide serrations. • RONI's enlarged cocking handle design makes cocking easier for any size operator and allows quicker clearing of jams.
Jams are cleared exactly the same way as when shooting the pistol by itself. All necessary parts are accessible.
DESIGN FEATURES:
Polymer body with a reinforced aluminum spine provides the strength, rigidity & durability needed while reducing carrying weight for the operator.
Ergonomic design is a comfortable and user friendly. Featuring an adjustable cheek rest, collapsible butt stock and folding grip.
Ambidextrous design of the front and rear sling mounts, charging handle and side rails allow for comfortable use by both left and right handed operators.
Muzzle shroud includes an integral glass breaker.
BUTT STOCK FEATURES:
RONI's butt stock with 5 position length of pull adjustment provides a comfortable fit with or without body armor.
RONI's adjustable cheek rest is removable, providing a perfect sight picture when using low profile sights.
RONI's butt stock features a secure extra magazine mount positioned where it reduces reloading time but doesn't interfere with shooting.
RONI can be operated with the butt stock in the closed position.
RAIL FEATURES:
RONI's 9.25" one piece upper aluminum rail is long enough to accommodate a number of different sights, including a red dot + night vision or red dot + flip up sights.
RONI's two 2.5" aluminum side rails allow the attachment of other devices including flashlights, lasers, etc.
RONI's 2 1/8" lower polymer rail provides mounting for forward a grip.
RONI's top and side rails are CNC manufactured from aviation grade aluminum providing a solid platform for repeatable zero mounts.
SAFETY FEATURES:
RONI includes a safety shroud to protect the trigger for pistols without a conventional safety devise.
RONI has a forward finger guard to protect the forefinger from the barrel shroud.
VERSATILITY:
The RONI can be used with the forward grip in a vertical or horizontal position.
The RONI design allows the use of different model pistols from the same manufacturer in the same RONI body. RONI's design allows for accurate single handed shooting from either hand.
RONI's unique design enables the user to "accurately point and shoot" because the barrel is significantly lower than the sight picture. RONI's totally balanced design eliminates weapon recoil, improving accuracy and reducing target reacquisition time. Increased accuracy reduces training time.
RONI's imposing, futuristic, stylized design provides a much more deterring profile than a pistol alone.
DIMENSIONS:
RONI G1 weight 3.22 lbs Overall length 18.5" (stock closed) 21.75" (stock extended) Height 7.5" (forward grip in vertical position) Width 3".
RONI with a Glock 17 at 4.62 lbs is almost 30% lighter than the H&K MP5/10 SMG at 6.23 lbs. • RONI is much more concealable because it doesn't have the MP5 forward banana clip and because of its size.
OPTIONS:
Three color options: Black, Green and Desert Tan.
Optional hinged brass catcher with magnetic release provides easy access to the ejection port. Velcro bag closure quickly empties the spent cases.
Optional secure magnetic vehicle mount allows for quick removal from the vehicle. • RONI accepts sound suppressors up to 1.375" diameter.
In the USA, All NFA Rules Apply
About:
EMA TACTICAL is the world leader in the development and manufacture of superior advanced arms accessories. Our products are specifically designed to meet the rigorous demands of tactical solutions required by worldwide armed forces, Law enforcement units & weapon professionals. Visit: www.ematactical.com